We never thought we would be homeschooling when we started almost 2 decades ago.
What our family can say today, is that looking back, we're so grateful for our entire homeschooling journey – even though initially homeschooling chose us rather than the other way around.
Today there are so many reasons to homeschool and ways that homeschooling can also be a good fit for dyslexic students, so take heart in the adventure ahead of you and may the coming year be one good surprise after another.
WHY HOMESCHOOLING CAN BE A GOOD MATCH FOR MANY STUDENTS
Schooling at an Individual Pace
The first reason why homeschooling can be a good match for many students is that traditional schooling can be a tremendous mismatch between dyslexic development and grade school expectations. Even with the most supportive of teachers, many students struggle with embarrassment or shame when they notice their friends and other classmates have easier times with school.
In a homeschool, much of the time pressures and social stress can melt away – leaving students to focus on steady progress and leveraging strengths.
Strengths-Based Education and Learning Beyond Pencil Tasks
Although changes have been taking place in terms of school trying to foster strengths or explore real world learning, there can be even greater opportunities with the time and focus on individual interests with homeschool.
If you haven't read my interview with Doresa Jennings and how she fostered strength-based STEM Homeschool for her students, visit HERE.
Also at the bottom of the post is an interview by Dave McComas, currently a professor of plasma physics and "rocket scientist" at Princeton. He was labeled "slow" and wasn't able to learn to read until the age of 12. He credits having a hobby of making jewelry and finding success as a young entrepreneur with giving him confidence and launching his success in science.
More Time to Work on Learning Challenges
For students with moderate or severe dyslexia, homeschooling – even in the midst of the pandemic can become a lifeline. These students can require much more time for remediation – and you can provide your student with all the time they need.
Now there are a wide range of parent-directed curricula that can help you take charge of remediation. If you need help, you can join groups with other homeschool parents or hire / work with a tutor who can give you extra help and coaching.
Students may need more time and more review to truly master material, but with homeschooling and not a lock-step curriculum, there is time to dedicate as much time as it needs without unnecessary pressures.
In the meantime, homeschooling parents can make sure that their students have opportunities to discover their interests, build on early talents, and also use their minds to the full extent of their intellectual abilities…which could be years above reading level.
Homeschooling parents should also be aware that a student's writing abilities may only really come "online" years after reading becomes fluent. Having faith in the process and allowing students to work steadily on the little skills that make up writing before putting everything together can help students mature organically in their writing when their development supports it.
As a homeschooler, students may also be able to have completely open access to using assistive technology which can set them up for success once their writing does develop and it comes time to prepare for college.
WHAT ABOUT COLLEGE REQUIREMENTS?
If you're wondering about how homeschooling students fare when taking college entrance exams or getting into selective colleges, in general, they do well and tend to outperform their traditionally-schooled peers (see HERE).
These studies were done before the pandemic, so now, it's not known whether these groups of students are closer together or farther apart. What was seen in at least one study is that homeschoolers as a group had weaker math abilities compared to traditionally-schooled peers (again, based on research performed before the pandemic). Could this be that homeschooling parents had more difficulty covering entire math curricula? Perhaps.
Because of the pandemic, many things are changing in the area of college requirements, so it's best to check about up-to-date information if your student is in her or his teen years. From Homeschool World, see an example of a sample high school transcript.
There are many businesses set up for homeschooling parents who lack confidence about preparing their children for college, but having an outside coach, taking workshops, or using a transcript service isn't essential.
If you have certain dream schools your student would like to attend, then research requirements for admission. If your student is interested in STEM or some highly selective schools, look carefully at all requirements, including math and science.
Some dyslexic homeschoolers may find that they can do well in advanced classes (like community college while they are still in high school) if they take fewer subjects at one time. This flexible schedule is harder to arrange in traditional high school – another reason why homeschool can be designed for individual students more so than traditional school.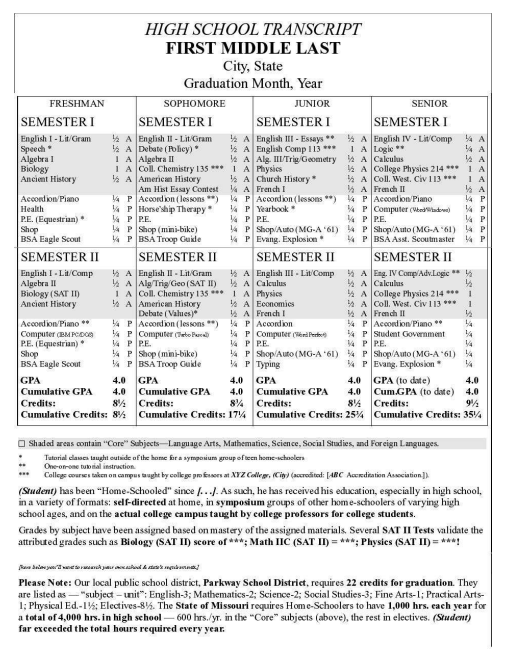 PRE-CAREER TRACKS AND TESTING OUT
How you plan to structure high school for homeschooling students might depend on whether your student knows what they want to do for higher education or careers. For instance, if you have a student who you know wants to be a firefighter after graduation, then look into becoming an emergency medical technician and see what requirements may be necessary for a degree in fire science. If your student wants a computer engineering degree, then look at engineering degree requirements and get your student programming in high school. If art school is what your student is aspiring to, then take some courses in art, and perhaps set up an Etsy store.
If your student doesn't yet know what they want to do, then assign a career development elective and see if they can interview people in different careers that they wish to know more about; have them research requirements and extracurricular activities that allow them to try out what they want to do.
Because homeschoolers don't necessarily have outside references, have your students take interest-based classes where a teacher later could write them a letter of recommendation for college. Many dyslexic students can take a community college class or two in their junior or senior year of high school (or, perhaps, sooner).
Because part of the challenge of college is keeping up with the quantity of reading and writing assigned in survey courses in college, see what classes your student may be able to test out of or get credit for while homeschooling. Both our homeschooling students took online classes in writing and history in order to meet college requirements and also pass out of the requirement later. On their history course, they also chose a class that only required papers and had no assigned tests.
It is also possible to "test out" of certain college requirements by standardized tests. I placed out of any math requirement for college by doing well on the AP Calculus exam. CLEP (College Level Examination Program) are commonly used by members in the military to expedite their course requirements in college.
Our kids took and passed several CLEP exams in high school, so that they could lighten their load later for college. The tests are multiple choice and there are a number of good review books available from which to study; some 4-year colleges may not accept CLEP credits for requirements (although most will accept AP exams), so check the rules for schools that are on your short list.