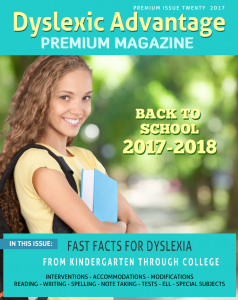 Become Premium Member
BY BECOMING A PREMIUM MEMBER, YOU WILL HAVE DIGITAL ACCESS TO:
>> BEST PARENT & TEACHER DYSLEXIA RESOURCES
>> LATEST TECHNOLOGY and APPS
>> EXCLUSIVE WEBINARS AND VIDEOS
>> PRACTICAL STRATEGIES and HOW TOs
See a List of Premium Magazine Articles HERE.
 Do you have questions about the Dyslexic Advantage Premium Membership? Contact us and we will do our best to answer them. Premium Subscription is $60 for One Year – that's just $5 Per Month. When the PayPal page appears, choose the Pay By Credit card option. You do not need to have a PayPal account. The magazine is sent to you by email but you can also download the file and print on your home printer. By default you will be purchasing a recurring subscription that will renew in one year. If you do not want to be signed up for a recurring subscription or purchase a recurring subscription by mistake, contact us at team@dyslexicadvantage.org and we will help you. US active duty service families, contact us about our complimentary subscription.
Institutional Subscribers: Starting in June 2017, institutional subscribers will receive print copies of the Tech Guide and Back to School Issue for the new school year. Keep a copy in the library, teachers lounge, or student area to increase dyslexia awareness and show that you are dyslexia-friendly! If you are gifting a school or tutoring group with an institutional subscription, you can get a complimentary Premium subscription for yourself, too! Just send us let us know after you've placed your institutional subscription.

Pay by Mail To pay by mail, download a Premium subscription form below and mail to: Dyslexic Advantage 6701 139th Pl SW Edmonds WA 98026-3223 Pay by Phone You can also leave your phone number and email if you would like to process a payment by phone (1-800-757-8310 X 700). You may need to be patient if you contact us by phone as we have only a very small staff. Regular mail is preferred to phone. Premium Membership subscription form (PDF format) HERE. Premium Membership subscription form (Word format)HERE.