]"Early testing data from this fall seem to bear out that the pandemic has hit students harder in math than reading."
With increasing numbers of the population getting vaccinated, there's hope for more normalcy, but chances are with all of the disruptions and stress, many students have fallen behind.
From the Hunt Institute: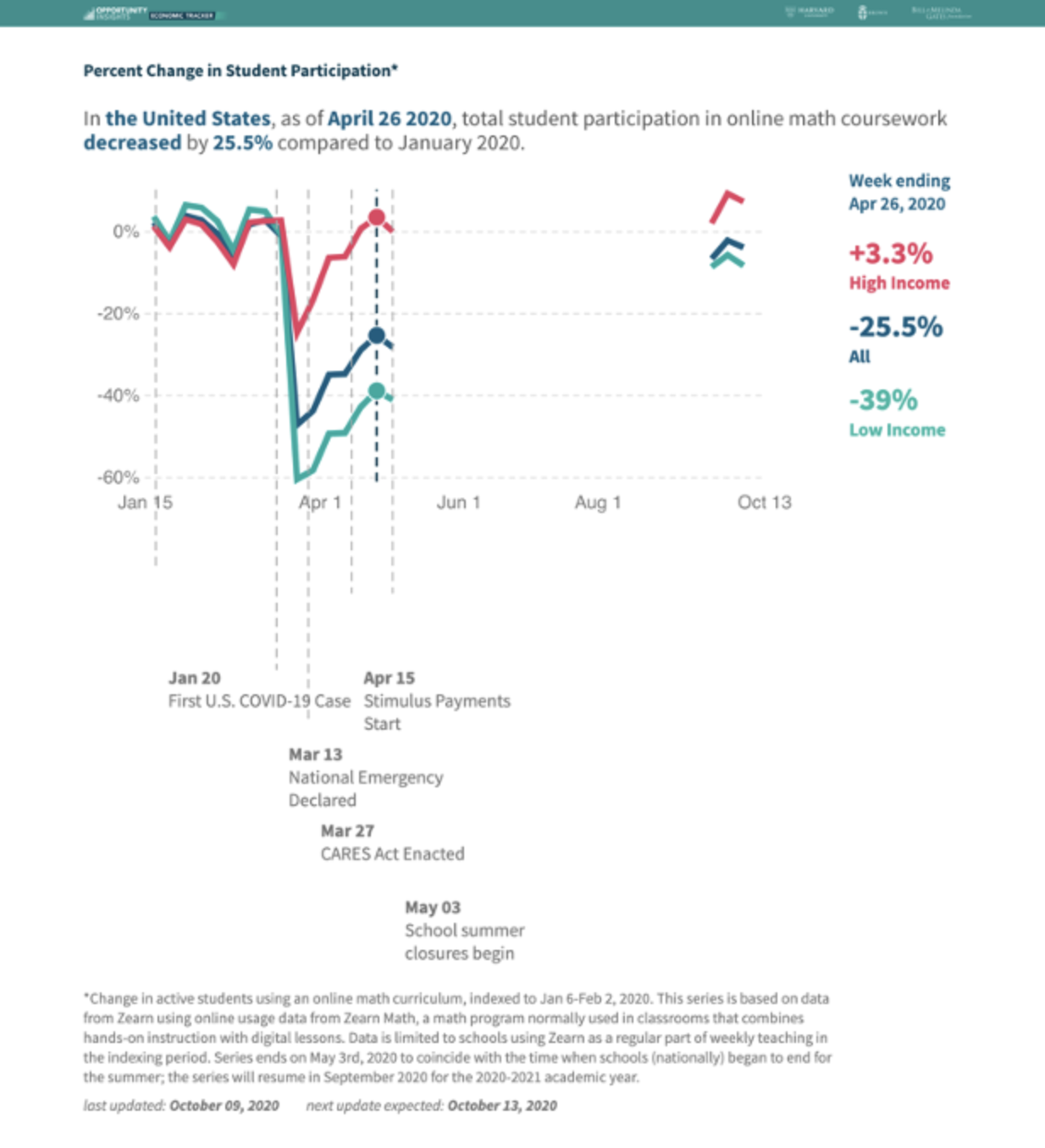 What shall you do?
First of all, everyone is in the same boat or at least knows about the boat – so don't put undue stress on your students or yourselves. Many colleges and universities are waiving entrance exams like the SAT or ACT, so being behind in math doesn't necessarily create a permanent block to higher education.
Math is a subject which is built on prior knowledge, so it doesn't do any good to try to skip ahead to where a student should've been, but rather see where they are now and assess whether some reviewing will be necessary so that there are no gaps in students' knowledge.
Higher socioeconomic groups were more likely to support students with tutoring.
Even if many standardized tests get waived, I personally think it's a good idea to find some way to catch up if there's been some math learning loss.
For dyslexic students, if they really understand the problem solving, they may require many fewer problems to complete to understand – but they may also need to have periodic review to make sure that they haven't forgotten information.
Also, from experience in our family, math may be a weak subject area due to dyscalculia or working memory problems, but many students have a late blooming profile whereby they have trouble making progress for many years (or constantly slide backwards), but then suddenly are able to do more and more.
Math work does train the brain for precision (something that big picture thinkers need) and the effort put into it can pay of in many other subjects that many dyslexic men and women excel at – like science, engineering, design, and finance.
If you decide to do a little math catch-up through the spring and possibly summer, find a regular schedule that's not too arduous, but that occurs with a routine so that concepts can be continually reinforced.
1. Assess. See if there is a program at your student's school or choose a curriculum that allows your student to take brief assessments to see what skills need to be learned.
If you choose to have your student progress through a particular textbook on online math curriculum, assessment tests are often used to identify weaknesses and plan both instruction and practice.
Other options include pencil and paper math placement tests through providers such as Singapore Math or Math U See (see more HERE or HERE).
Another strategy is use a math review book for a standardized exam as your method of assessment and text instead of the standard books schools and even traditional homeschooling curriculum providers publish.
2. Teach to Cover Gaps. For dyslexic students, often conventional text have too many words of explanation and practice problems. If a student truly understands why they may need fewer problems to demonstrate their knowledge than may be routinely assigned in a general math class; however, they may also benefit by more frequent review and checks to see that essential information has been retained.
Pairing a test review book with Youtube videos from the Khan Academy or even a more visual math channel like MashUp Math can strategy for catching up in math that also builds on strengths in multimedia and multisensory learning.
Working with a parent or even online tutor may reinforce principles more; accommodations usually can be requested to allow students the option to use manipulatives during exams.
If your student has dysgraphia, dyscalculia, or working memory difficulties, be prepared for very non-linear progress. In the early years, students may seem to make little progress and even show considerable backsliding and forgetting of procedures and concepts. These students may often still have many cognitive strengths (including strong reasoning abilities) – but they may need to grow into their brains a bit, and significant progress may only be seen in math when they are older and have automatized activities and have a larger working memory capacity.
If you need to have an outside tutor for your student, there are many online tutoring platforms like Wyzant that can provide regular or on-the-spot helps for homework or exams. For more tutoring resources, visit HERE. Some private schools and tutoring centers may also have tutors with experience in dyslexia. If your household is avoiding in-person tutoring, see if online options are offered.