"The learning experiences of dyslexic medical students during the COVID-19 pandemic: a phenomenological study.
This study has explored the learning experiences of dyslexic medical students during the COVID-19 pandemic…
Generally, it fostered a culture of togetherness and allowed them greater flexibility in their learning—giving them the opportunity to overcome the difficulties associated with their dyslexia."
— Shaw et al., 2022
It's always interesting comparing the research in the UK vs. the United States.
Here in the US, the emphasis is overwhelmingly on early identification – often before children are even old enough to read. In the US, also, the overwhelming emphasis is on reading, although dyslexia impacts many aspects of general learning, school, and work performance.
I was happy therefore to see this recent paper by Shaw and colleagues following up on the learning experiences of dyslexic medical students in the midst of the COVID pandemic lockdowns. The study population is small, but any information is valuable when there is little otherwise to guide advice.
The first big surprise to the authors of this study was that in general, dyslexic students found the switch to distance learning a positive experience. With all lectures recorded and no longer the requirement for 1st and 2nd year students to be sitting in lecture halls all day, students found their learning more flexible, efficient, and enjoyable. In addition, study partners helped making learning enjoyable and productive.
Excerpt:
"All participants expressed a sense of taking back control of their education—from self-study to self-timetabling… 'I am really enjoying it… because I can't sit still in lectures—I get really, really bored… I, umm, have really enjoyed being able to do a lot of it online and being able to pause and make a cup of tea, for example, and then carry on." P3 felt particularly strongly that this had been the best period of his degree: "I've enjoyed it actually much more…This new layout (distance learning) has felt like it's been my optimal thing." This positive experience was shared with P2, who felt that "it was a much better learning experience—less stressful, and actually much more fun."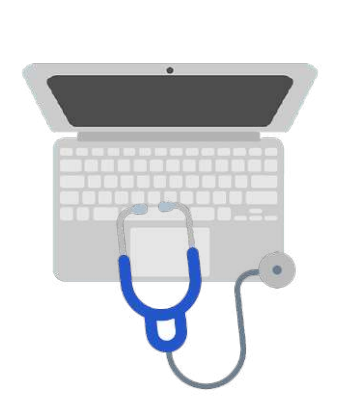 Students enjoyed:
– recorded lectures (option to re-listen at custom speeds)
– online question banks to study
– electronic flashcard software
– video instruction for anatomy
– study buddy via Facetime
– flexibility of being able study at home instead of at school
– option to structure studying
– less stress if missing a study section
– less pressure at learning in a specific period of time in class
– typed closed captions to videos
– inclusive options added to exams
– ability to adjust sizes and colors and fonts, and cross out answers
Students commented on the inefficiency of standard medical school lectures, some of which were 3 hours in length.
On the downside, were impacts of the pandemic that affected all students – namely the sharp restriction in clinical experiences. Clinical electives and even volunteer clinical experiences were shut down because of the pandemic – and students recognized the limitations.
Also students commented on technology limitations that were especially frustrating online tests requiring short essays; the required platform apparently only allowed students to see only a few words at a time when they typed answers in a box.