Every year technology gets better and better and it's clear that finally it's catching up with dyslexic minds.
Major technology companies have finally responded to calls to optimize their text-to-speech, speech-to-text, and spell and grammar checkers to the dyslexic community. If you tried and then gave up on technology in the past, now is the time to check again.
VIRTUAL ASSISTANTS
Phones, tablets, laptops, and smart watches all have virtual assistants.
Siri will send and read texts, set alarms and timers, make calls / start facetime, set reminders and check calendar, do translations and conversion, solve math equations, navigate on apple maps, search and create notes, play voicemails, check the weather, find files on the Mac, check stocks, even fill out forms. See more HERE.
Changes are coming to Cortana – it seems as if she is be merged into a "Cortana experience" – but Microsoft devices help with managing your calendar, email, join meetings, make lists, and set reminders and alarms, get definitions and quick answers, as well as things like weather. With the recent news that Microsoft bought Nuance (Dragon Speech) for almost $20 billion, though, it may be that Alexa, has more integrations with 3rd party apps, and there are standard Alexa Skills like reading audiobooks, integrations for managing calendar, email, and routines, but also Alexa for Business which has more meetings and work capabilities.
Google Assistant has similar abilities, of course reading Gmail and web pages, and calendar, as well as reminders, alarms, and wake up routines, and filling out forms.
READ ALOUD OR TEXT-TO-SPEECH
It is likely that whatever operating system, browser, or software you're using to read a document or web page also has text-to-speech capability. The electronic voices are also getting easier to understand, making it something that can be smoothly integrated into your workflow.
All that said, some people still prefer purchasing "custom voices" through an app like Voice Dream Reader if their work or free time involves extended listening to text.
For any PDF file, use Adobe Acrobat Reader as also seen below.
View > Read Out Loud > Activate Read Out Loud.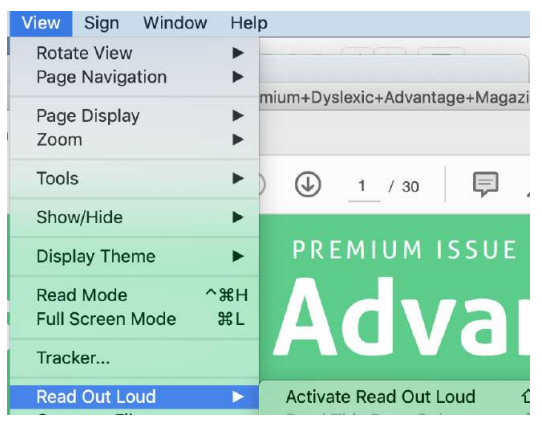 For reading aloud websites, I like the unofficial Google Chrome Immersive Reader Extension HERE.
SPEECH-TO-TEXT, SPELL CHECK, GRAMMAR CHECK, TRANSCRIPTION
There have been significant improvements in speech-to-text or dictation, spell and grammar check, and transcription of audio and audio meetings, but they still are not perfect.
Apple users trying to use dictation in the past have been puzzled by many quirks, not the least, timing out after a few words or struggling to play nice with multiple keyboards. Now for iOS 13 or higher and Catalina, there is Voice Control which is meant to replace their keyboard dictation. Voice Control still doesn't have punctuation, but it does recognize punctuation commands and highlights in blue if there are words or phrases it doesn't understand.
There is still no magic bullet platform that will take speech and beautifully write down perfectly punctuated sentences. In particular, while all sorts of software can match verb tenses and find spelling mistakes, few if any are accurate with commas and even the basics of where sentences end and begin again.
Many students who use Google Docs, One Note, or Dragon report these as functional for dictating papers and essays. These programs don't reliably apply auto-punctuation, but students (or anyone else for that matter), who learn grammar at the time they begin writing by dictation, will be all set for dictating all writing in high school, college, or beyond.
Mac owners may already be aware that Nuance's Dragon has been struggling to keep up with Apple updates; they discontinued Dragon Professional and Dragon Medical over the past years and had some disastrous updates, but perhaps that will all change now that they are bought by Microsoft. Microsoft has declared itself as an "all-platform" software and they have taken stands to be a software for all users.
So current recommendations include your native virtual assistant, whether it's Siri, Google Assistant, or Microsoft's Speech to Text. The voice meeting transcription app Otter.ai is surprisingly good at punctuation and figuring out where sentences end and begin, but it occasionally has very wrong word substitutions when it "mishears". Hopefully, it's still just matter of time before some of the kinks get worked out.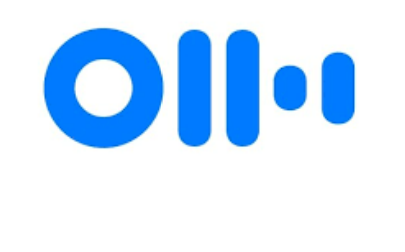 Otter also has a very generous free program (600 minutes free per month), so you can try it out to see if it fits your needs. It also time locks the transcription to audio, so you can proof it and listen to the words said at the same time – making correction all that much easier. I use it for interview transcriptions on a regular basis.
As for spellcheck and grammar check, great progress has been seen in the past few years. The free version of Grammarly is still quite helpful for many. Others may be able to get by with Microsoft Word Spellcheck and Google Suite (not personal free Gmail owners) has launched their contextual spellcheck and grammar check as you type function.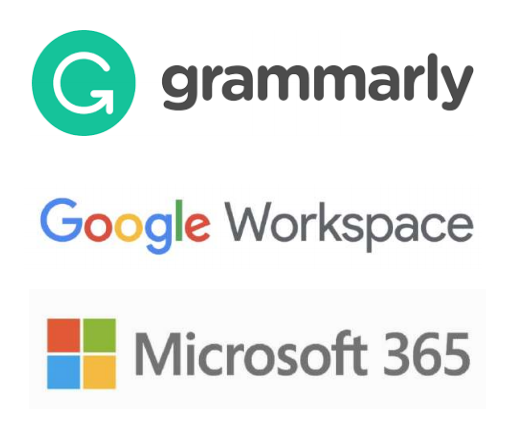 The reason why contextual spellcheck and grammar are so helpful is that they catch mistakes that are common among dyslexics of all ages – words that are spelled differently in different contexts – like the words "here" and "hear."
Many people like Google.com as a simple spelling word lookup because it provides a dictionary definition (including the option to listen to it) as well as similar sounding words.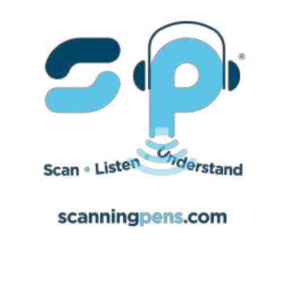 What about reading print books, newspapers, print articles on reserve in a library, or mail? Scanning Pens can definitely be handy for these purposes. Once exams are back in full force, the use of specific "test pens" also allow students to access test questions without having to use a designated reader. For point and click scanning, there are free options Google Lens and Microsoft Lens.