Endrew F. vs. Douglas County School District decision:

"The IEP must aim to enable the child to make progress. After all, the essential function of an IEP is to set out a plan for pursuing academic and functional advancement… When all is said and done, a student offered an educational program providing 'merely more than de minimis' [trivial or minor] progress from year to year can hardly be said to have been offered an education at all.

"For children with disabilities, receiving instruction that aims so low would be tantamount to 'sitting idly … awaiting the time when they were old enough to drop out' … Every child should have the chance to meet challenging objectives."
This is the time of year for IEP meetings.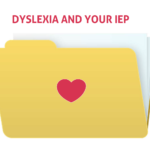 For parents, the idea is to look over the past school year where progress was and wasn't made and make plans for the upcoming year to move students even farther along on their journey.
The IEP process is daunting and the better-prepared parents are for the meeting, the better. Below is a nice short video about how to organize an IEP binder.
Children as young as 9 can be involved in the IEP meeting although it is more common to have older students attend. Definitely review materials (progress reports, testing, report cards) and have your own list of strengths, needs, and concerns. Ask if you can record the meeting and get a list of all who will be attending. It is always recommended to have someone attend with you.
If this is your first IEP meeting, see if you can talk to other parents who have had one at your school. You may even be allowed to have another parent attend with you as a person to take notes or provide a more objective viewpoint.
IEP meetings can be an intense experience. Try not to get upset and check out the rules of thumb suggested by Smart Kids with LD.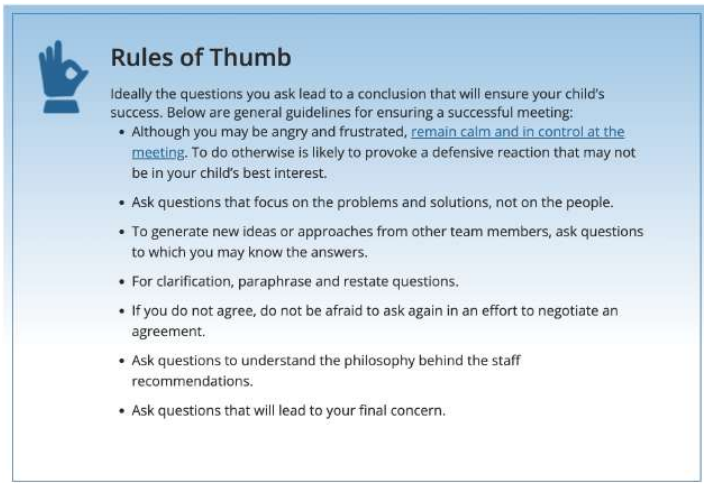 Be aware that you do not have to sign by the end of the IEP meeting. If you need to take time to consider if the plan is a good fit your student, and ask for time if you need to consider whether it will be a good plan for the upcoming year. You may need more time to consider and seek out other advice.
GOOD IEP STATEMENT EXAMPLES
The focus in an IEP should be on objective facts, not opinions. Check out this Ultimate IEP Presentation for good examples of "present levels" and "goals":
An excerpt:
PRESENT LEVEL EXAMPLE
"Jake (a fifth grader) currently reading at 89 CWPM when given an unfamiliar text at the fifth-grade level. According to Woodcock-Johnson, Jake is currently decoding multisyllabic words at the 3rd-grade level. His spelling is at the 1st grade level according to Woodcock-Johnson. Jake struggles to decode new multisyllabic words, especially words that include vowel teams and diphthongs such as retreat and avoided."
DECODING GOAL
"Amy will be able to decode a list of fifty third-grade words (10 CVC, 10 CV, 20 VCE, and 10 VT) with 80% accuracy."
FLUENCY GOAL
"Amy will read an unfamiliar third-grade text at 90CWPM 3 out of 4 trials as measured by teacher kept data.
SPELLING GOAL
"Amy will be able to spell (encode) a list of fifty third-grade words (10 CVC, 10 CV, 20 VCE and 10 VT) with 80% accuracy. "
ACCOMMODATIONS
If your student needs accommodations for classroom work and testing, it is important to have those needs listed in the IEP.
In our Dyslexia at School Survey, a shocking 74% of respondents said that their children were given tests that they could not read.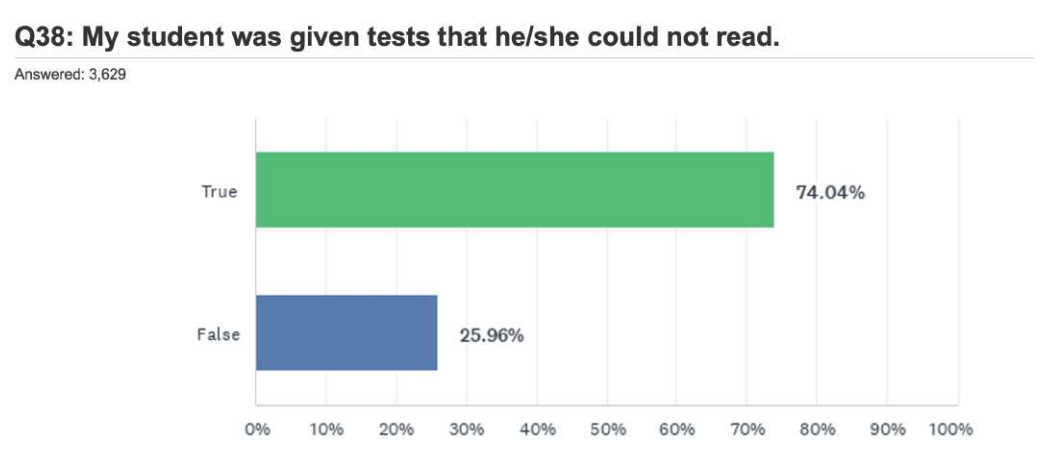 Students need accommodations to read routine classwork and assignments, textbooks and handouts, and of course tests. IEP guidelines usually state that requests do not list specific products that are required but instead mention the features necessary to help.
If an IEP team, the student, and parents cannot agree on an assistive technology plan, then a formal assistive technology assessment may need to be conducted.
If you would like to provide outside documentation about accommodations for your student with dyslexia here are two references:
Assistive Technologies to Support Students with Dyslexia (paper)
Assistive Technology for Students with Dyslexia (Fairfax County Schools)
Common accommodations requested include:
Text-to-speech, reader for tests, audiobooks, Bookshare, Learning Ally, audiobooks and ebooks, Rewordify, word prediction software (writing), spellcheck, designated note talker, teacher notes, speech-to-text (dictation), option to keyboard, talking dictionary, 1.5 – 2 x extended time for tests, scribe for scantrons.
WARNING – DISRUPTIONS DUE TO PANDEMIC EDUCATION LOSS
Be aware that many educational leaders are warning that the identification and remediation of students with disabilities is likely to be complex due to the extent of pandemic learning loss for many students.
From the April issues of Nature Reviews Psychology:
"Since the onset of the COVID-19 pandemic in March 2020, millions of children across the globe have experienced the partial or full closure of schools and/or prolonged reliance on virtual learning. The effects of this ongoing educational disruption are still unfolding. Early studies from the COVID-19 era have associated educational disruption with increased mental health concerns (including depression and anxiety) and diminished learning gains (especially in maths and reading) in young people. Those affected by racial and economic disadvantages have been more likely to experience longer periods of educational disruption.
During the educational disruption, youth with developmental concerns, including learning disorders, have reduced access to special education and other support services…
When education has been disrupted by COVID-19, rigid adherence to DSM-5 criteria for initial diagnosis of a specific learning disorder entails a substantial risk of error. In the past two years, most youths have experienced some loss of academic instruction. Many have also experienced psychosocial adversity (such as the death of a loved one or decreased social support). Interventions might not have been available within any given six-month span of the pandemic. These factors would seem to rule out the diagnosis of a learning disorder on the basis of the DSM-5 criteria. As educational disruption persisted, some schools altered the curriculum by eliminating content; consequently, it is increasingly difficult to know whether observed learning difficulties and/or low achievement scores reflect an underlying learning disorder or lack of instruction. This difficulty is confounded if standardized academic assessments use pre-COVID-19 normative data to assess COVID-19 era progress."
All these warnings aside, the difficulties that schools and teachers are currently operating under do not mean that their students can't be provided with appropriate education – it may mean that there may be significant backlogs in testing and services and students and parents to may need to advocate for themselves if their needs are overlooked.
State guidelines often determine which curricula can be used for students who are more severely impacted by reading difficulties; however, next steps may get murky if a student fails to respond.
If you have a student who has had trouble making progress with their IEP, then consider if the curriculum that they are being given is a good fit for them.
Can I request an Orton-Gillingham / structured literacy tutor? You can read more about this topic in the Wrightslaw blog HERE.
You can request a 1:1 tutor, but the school may not provide one. If your student has had documented difficulties failing to make progress on their curriculum, then you have stronger support to request changes and potentially more support. More districts are acquiring district literacy experts who may be able to make an assessment of your student and their current school program and revise or provide changes that may be needed.
FINDING AN ADVOCATE
If you find yourself overwhelmed by the IEP process, you might see whether finding dyslexia / special education advocate could help. There is not an official job or certified position – but many people can be helpful in this role because there are a lot of specific terms and phrases and rules that parents may be unfamiliar with.
Sometimes a parent of an older student can help fill this role; other times it may be a previous teacher your student had that understood his or her needs. Some professionals (teachers, therapists, tutors, therapists, psychologists, etc.) may also have retired full-time from their professions, but still be willing to work as consultants to advise parents in the IEP / 504 process.
Some parent or parent-teacher groups have lists of advocates or advocate training for parents. There are also groups that meet online to share information and resources – they may be through shared interest groups on Facebook or community sites associated with non-profits or professionals. One online clearinghouse for the US is the Center for Parent Information and Resources.
BE CAREFUL ABOUT EXITING AN IEP OR 504
The issues around terminating an IEP or 504 are complex. To read more about others' experiences, visit HERE.
Every new academic year presents with new challenges, so if a student is excited at the end of one school year, but then has trouble without the added support in the following year, and with the usual delays in re-assessing and getting plans approved, months and even a whole year can be lost.
Check out our previous article on the Department of Education and its policy about qualifying for accommodations for high-stakes tests HERE. It is true that an IEP and 504 do not exist at the college level, but having accommodations as part of an IEP or 504 (like extended time, text-to-speech, or note taker) are usually automatically rewarded at the college level as well as by exams like the PSAT, SAT, ACT, AP, GED, or licensing exams.
An IEP or 504 does not mean your student needs to have pull-out or push-in services. It can mainly be used for accommodations and technology.