"Originally from Hackney, Jay is dyslexic and after leaving school at 15 with no qualifications, he eventually managed to get back on track studying for a degree in criminology and philosophy at Buckingham University before finding his true vocation in restoration."
Today, Jay Blades is a TV presenter for three shows, including Money for Nothing and The Repair Shop.
Jay is largely a self-taught craftsman, but over the years has benefited from many masters of restoration. He also co-founded two social enterprises, Out of the Dark and Street Dreams, helping young people realize their full potential.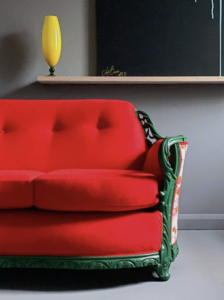 At his lowest point, Jay had a failed business (he lacked funding to help kids learn repair skills) and he became homeless after his marriage broke up and he left their house. Fortunately, a former buyer of some of his furniture took him in and loaned him a workshop where he could get back and running again. What a come back!
He's an award-winning BBC host and transforming lives while helping restore and create beautiful things.
From the Daily Star:
"I couldn't have been luckier than to find two loving people who nurtured my spirit and soul and treated me as their own…this reignited my creativity, ambitions, drive, and made me feel all my dreams could come true."