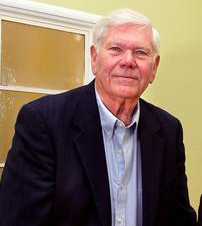 If you haven't heard John Corcoran's story, it's a great one. He became a teacher, never knowing how to read, getting by through good social skills, athletic ability, and cheating with the help of friends. He even taught for 17 years (showing more films and visuals than many other teachers), but left this career to make a fortune in real estate (a generally good career for many dyslexics). John's wife was the first person he ever told that he couldn't read.
To those who criticized him for cheating, he said he was trying to read, but just couldn't – and no one knew to give him help. He went to his local library to get help. After 13 months of one-on-one instruction, he was finally able to read on his own. Said John, "Reading filled a huge hole in my soul."
Some people might be dumbfounded that John could work as a popular teacher, but he taught social studies, PE and driver's education. As a teacher, he orally tested students and gave them oral assignments. He relied on smart students to complete certain tasks and often invited in guest speakers.
What about grading? He didn't assign any term papers and as for reading out student's names, he had his students call out their names every day, as a "way to get them to know each other." Once his wife Kathy knew, she became his secret secretary and she helped with grading and reading and writing tasks.
John set up the John Corcoran Foundation which works to eliminate illiteracy in children and adults.
Said, John, "It's never too late to learn to read. Illiteracy is a huge, underestimated problem. I consider it the most important civil rights and human rights issue of this decade. The nation doesn't understand the negative impact not knowing how to read has on people's lives."