Rebecca Kamen is a brilliant Artist / Scholar in the Department of Physics and Astronomy at the University of Pennsylvania who's had her work acclaimed around the world.
Her Diving Nature: An Elemental Garden was inspired by the orbital patterns of the 83 naturally occurring elements in the Periodic Table and their relationship to Plato's view of Sacred Geometry.  Past solo / dual exhibitions have been at locations such as American University in Washington DC, Canberra Space Centre in Australia, Howard Hughes Medical Institute in Virginia, or National Academy of Sciences in Washington DC.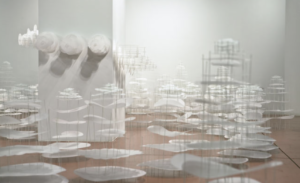 "I still can't read a book and remember it, but I can remember complex things if I'm able to tie it so something…if I can see how it relates to things…Growing up, mathematics never made any sense to me because it was just memorizing all this stuff, and never connecting it to anything…But now I lecture on sacred geometry. I'm so fascinated by the history of science, the narrative…if you can hook someone or connect them through a story that makes sense to them, then you can have an impact."
Rebecca shared that she really struggled to get into college in the 1960s. She had always wanted to be a teacher but her low SAT scores blocked her way. With the support of her parents, Rebecca appealed to the principal of her high school to attend Penn State (she was a Pennsylvania resident). They accepted her on probation for one year. If she could survive the year, they agreed to keep her. She knew to avoid math and chose Art Education. It was the only major that didn't require any math. After taking her first sculpture class, she was hooked. She did really well at Penn, got a fellowship to the University of Illinois for a Master's degree in Art Education, then got a fellowship to Rhode Island School of Design five years later so that she could be an art professor.