"I was in second grade when I overheard my teacher telling my parents that he would be surprised if I finished high school. In the second grade!
Hearing this, you'd guess that I wasn't the most well-behaved student in my class. Throughout my formative years,
I stuck to that persona at times and it wasn't until high school, when I got my first job, that I really learned to appreciate the value of hard work…"
– Bo Parfet
How familiar does this start in life sound for our readers?
I recently came across Bo's story Business Matter Magazine and there's a lot to learn from as well as inspire from his choices, reflections, and experiences:
"…before I knew that I had a learning disability, I was cast as a troublemaker and a failure. It wasn't until I got my first job working in a vintage car shop that I really found my sense of self-worth. I was able to see the value of hard work and I was given opportunities to do things that others thought I might not be capable of doing. I enjoyed seeing what I could accomplish from working hard—physically, mentally, and financially.
I put myself through college, graduating with an Economics degree from Colorado State University. I went on to receive a master's degree in Applied Economics from the University of Michigan and eventually got my MBA from the Kellogg School of Management…."
"When I think back on all of the times it would have been easier for me to say no or to quit than to keep moving and pushing myself forward, I cannot imagine the person I would be today had I not learned the lessons of perseverance that came from my experiences overcoming dyslexia. Nothing happens out of luck. It is through sheer perseverance, and the desire to become more than that grade-school boy that had "no chance" of making it through high school, that I have built a legacy of which myself and my family can be proud. I suggest to many people that I meet that they think of one thing that scares the hell out of them, and then just take a leap and keep climbing towards and over it…"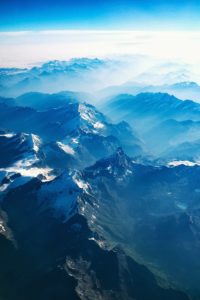 After getting out of school, Bo seemed to have landed a great job at the global financial firm JP Morgan, but as Bo tells it in his book Die Trying, he was stuck inside an office cubicle from 9am until 2am and he'd seen his weight balloon up to 230 pounds after too many hot dog lunches and takeouts for dinner. Surfing on the Internet, he became enamored by the idea of trying to summit one of the world's greatest mountains. At that point, he admits he was "completely out of shape", doing Stairmaster once a week, but thought if he could go on an easier, shorter expedition, than the biggest, he could manage it. He chose Kilimanjaro.
You'll have to read Bo's book to really get an understanding of the extent of the mental and physical challenges he had to overcome to reach his goals (he ultimately summited the 7 highest mountains in the world), but what I especially wanted to share with this community is that his early life dyslexia challenges were there somewhere at the bottom of it. From his book:
"Having already dealt with the elements, Indonesian terrorists, local militia, lurking cannibals, and near starvation to the point of physical and emotional exhaustion, I stared at that intimidating length of granite and, in its rugged gray complexion and skyward trajectory, saw yet another manifestation of the proverbial barrier that I'd faced all my life. As a dyslexic kid with a speech impediment, I had grappled with overwhelming odds to disprove the claims of my teachers and fellow pupils that I'd never graduate from high school.
As a adult, I had worked hard to succeed in a mostly literate world and achieve what I'd been assured was impossible. Now, swinging beneath a ridge on Carstensz Pyramid, technically my most difficult climb to date, I thought, "You won't defeat me…"
Another admirable thing about Bo is that he has made a lifelong commitment to giving back. With this first trip, he raised enough money to help two African students attend medical school. He went on to found Denali Venture Philanthropy, a hybrid entrepreneurial and social venture company that strives to make "positive, creative, sustainable improvements in people's lives."