I finally had a chance to catch up on Avengers: Infinity War so I could write an article on amazing Paul Bettany.
Paul plays so many different characters so well that I often don't realize that he was the same actor in so many different roles.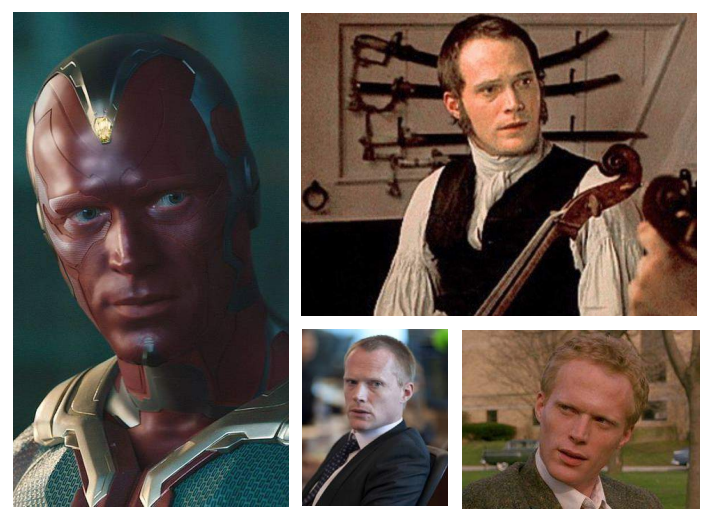 After long being heard as J.A.R.V.I.S., Paul Bettany finally has a physical presence in the Avengers as Vision. These are very different roles from his characters in Master and Commander or even Margin Call.
From an interview in Digital Spy:
"I was dyslexic so wasn't reading as a child and fell through every educational crack there is to fall through. Books happened later for me. I was your average bullied kid sitting in his room plotting revenge."
Both of Paul's parents had been in acting, but both left – with his father to become a drama teacher at a private school. When one interviewer told him it was hard to imagine this 6 foot 3 actor being bullied, he assured him that it was true and non-stop, from the way he looked to the fact that his father had been a dancer.
Paul said that he didn't read a book for pleasure until the age of 19, when he enrolled at a drama center. Once he was able to read, "everything changed. I gained a lot of confidence."
"Trying to be a good actor has to be involved with placing yourself imaginatively in different people's circumstances."
Paul did have his reading abilities tested when the directors of Avengers insisted that the only way he could read ahead in the top secret script was if he did so by himself in a locked trailer. He was also given multiple copies of script (fake scripts, but also one true one) so he couldn't be sure what would happen to his character. He read one script three times, but that one turned out to be a fake… that one, he said took eighteen hours of his time.
Paul continues to be busy even though End Game is in post-production. He has a large part in the Vision and the Scarlet Witch series and also protects his time with his family. He turned down the role of Prince Philip in The Crown because the role would require too much time away from his family. Said Paul, "I have children – they need to know Dad's going to come home."