In an interesting study, researchers in France looked at the impact of spelling difficulty on the writing performance of students with dyslexia.
From the study:
"Dyslexia weakens spelling skills, even when the child presents no motor problems. By varying the degree of difficulty in words to spell, researchers were able to analyse the impact of spelling process disorders on handwriting. Tests consisted in writing different categories of words: regular and irregular, common and rare, sensical (ex: futur) and pseudo, non-sensical words (ex: furut). To understand exactly how spelling affected handwriting, researchers recorded participants' writing gestures on digital tablets.
Analysis revealed that the act of writing irregular and pseudo words had a particularly noticeable impact on the hand movements of dyslexic children. Spelling became so difficult that it interfered with, and, in some cases, impaired their efforts to write. The children produced irregular, and sometimes, unreadable shapes. Often, such individuals are wrongly identified as "dysgraphic", a condition in which mechanical difficulties affect handwriting."
Clearly, it's important to distinguish the sources of a child's writing difficulties – and it may be that a child is dysgraphic both because of spelling difficulties as well as motor sequencing issues due to concomitant dysgraphia.
In the example below, the student was writing the word "regard". The gap in the tracing at the bottom of the page showed when the student stopped writing to look back up at the board to check the spelling.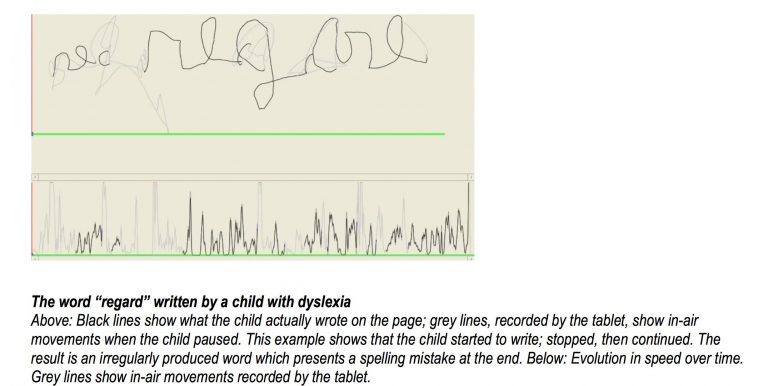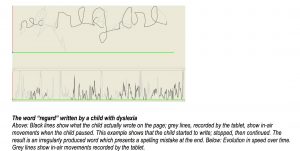 ASSESSING VISUAL WORD SPAN BY WATCHING HOW OFTEN A STUDENT LOOKS UP IN SENTENCE COPYING TASK
Watching a student copying from a sentence can help provide an estimate of his or her visual memory span for letters or words. Students with severe limitations in visual memory for words will look up every letter or so compared to students who may look up every word. If a student is looking up every letter, it should also tell a teacher or parent that copying sentences will not be an effective strategy for learning spelling. The student is not 'seeing' an entire word at one time; what is needed is teaching word construction in meaningful units – for instance in phoneme groups which would reinforce sound-symbol correlations.
WEAK VISUAL WORD SPAN CONTRIBUTES TO SEVERE DIFFICULTIES COPYING FROM THE BOARD AND NOTE-TAKING
A limited visual memory word span can also make it impossible to take notes or copy from the board. The best practice will also be providing students with detailed handouts reducing the need to copy from the board, however, in lieu of this, having the option to record classes and take picture of the board or using a regular designated note-taker can help fill the gap.
In the example from the research paper below, see how the letter 'v' in 'cuvette' was distorted because it was written just after the student looked up at the board (small blue square).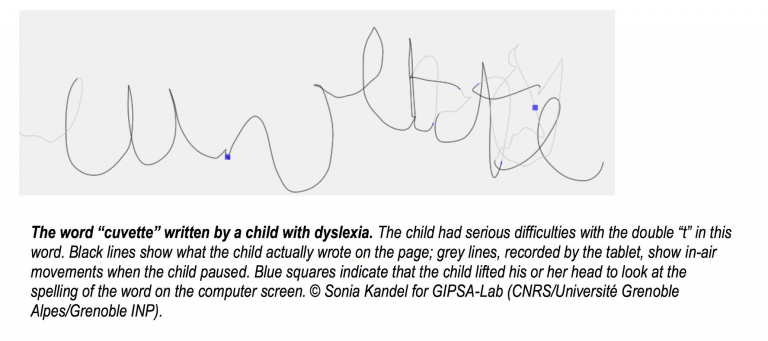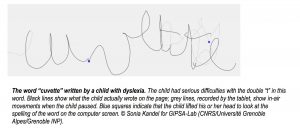 If students' auditory span for letters is stronger than their visual span, then one strategy to improve writing fluency is to spell aloud words before writing them.
Another value of this study is how it serves as a good reminder how truly difficult the process of writing is for many dyslexic people.