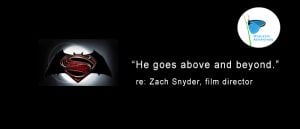 With news that Batman vs. Superman just passed the $700 million globally, powerhouse film director Zack Snyder shares his story about dyslexia in Bloomberg.
Zack is known for a series of blockbuster movies, beginning with Dawn of the Dead, 300, Watchmen, Legends of the Guardians: the Owls of Ga'Hoole, and more recently Man of Steel and Batman vs. Superman.
Zack had struggled in school, after becoming inspired by seeing Star Wars in 1977, his painter-photographer mother
bought him a movie camera (good for you, Mom!) and he soon started filming stop-action films. Attending a small Christian Science school, Zack soon became known for his resourcefulness in movie-making… including getting permission to us a real Greenwich police department car for his movie and renting a crane to get a great overhead shot. He started out as a painter in a fine arts school, but transferred to Art Center School of Design in Pasadena where he settled on filmmaking.
"Another classmate, Larry Fong, who'd later work as Snyder's cinematographer on 300 and Watchmen, recalls how the budding director made a World War I movie, digging trenches behind the house he was living in, renting uniforms for his actors, and simulating rain with a garden hose. "That was my first time working with him," Fong says. "I realized he goes above and beyond." Snyder's landlord had a fit when he discovered what the students had done to his property. By then the film was done. Snyder's professor loved it."
Zack's wife shared that he's a "true artist":  "If you ever go to a restaurant where there's parchment paper or a napkin, he's constantly drawing sketches of people. In between movies, he's picking up his video camera and shooting things around the house. He can't help himself."