To Activate Read Aloud, turn on ReciteMe before clicking on the Newsletter Link. Recite me is the red button at the top left of the browser. To turn off, click the X at to right. If you have any problems, contact us at: team "at" dyslexicadvantage.org For more back issues, become a Premium Member.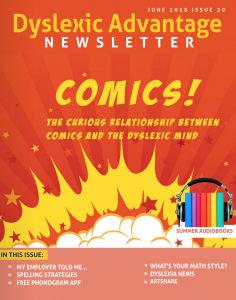 June 2018 Dyslexic Advantage Newsletter in PDF
Comics and Dyslexia, My Employer Told Me…,Free Spelling Phonogram App, Different Math Learning Styles, Dyslexia News, Summer Audiobooks, ArtShare
May 2018 Dyslexic Advantage Newsletter in PDF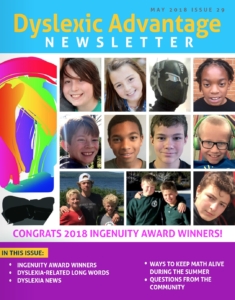 Ingenuity Award Winners 2018! Sneaky Ways to Learn Long Words Dyslexia News Keeping Math Alive Over Summer Technology
April 2018 Dyslexic Advantage Newsletter in PDF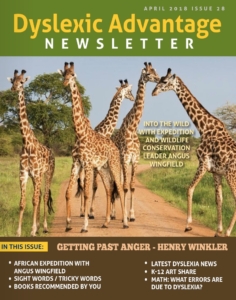 African Conservation with Angus Wingfield Getting Past Anger with Henry Winkler Sight Words / Tricky Words Book Recommendations – By and For You K-12 ArtShare Math – What Errors Due to Dyslexia? Resources for Adults
March 2018 Dyslexic Advantage Newsletter in PDF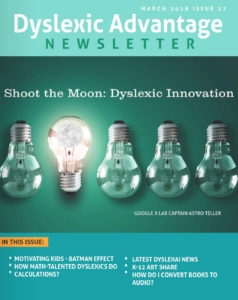 Dyslexic Innovation Google X Lab Captain Astro Teller Motivating Kids – Batman Effect Could It Be Grammar? How do math-talented dyslexics do calculations? How can I get my materials in audio? Dyslexia News
Karina Eide Young Writers Awards Program in PDF
FEB 2018 Dyslexic Advantage Newsletter in PDF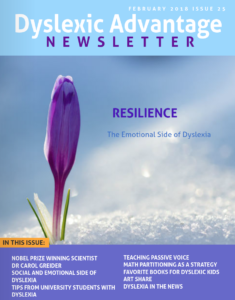 Nobel Prize Winner Carol Greider Social and Emotional Side of Dyslexia Strengths to Foster Resilience How They Do It – University Students with Dyslexia PASSIVE TENSE Art Share Math with Partitions Best FONTS for Dyslexia Books Recommended By You Dyslexia News       SEE BELOW NEWSLETTER ARCHIVES FOR PREMIUM SUBSCRIBERS Please log into your PREMIUM account to view.
When you open the magazine, previous issues can be found in the sidebar.