To Activate Read Aloud, turn on ReciteMe before clicking on the Newsletter Link. Recite me is the red button at the top left of the browser. To turn off, click the X at to right. If you have any problems, contact us at: team "at" dyslexicadvantage.org  For more articles, become a Premium subscriber for $5 a month and also support the dyslexia community!
We're in the process of uploading newsletter articles to the blog and converting some to audio. If you'd like to volunteer to record some articles for our members who prefer to listen, please contact Fernette:  team "at" dyslexicadvantage.org We need volunteers who can commit to recording an entire issue – thank you!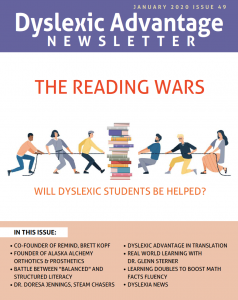 JAN 2020 Newsletter
JAN Giveaway
Karina Young Writers Deadline JAN 21
Reading Wars – Structured Literacy vs. "Balanced" LIteracy
Dr Doresa Jennings and STEAM Chasers
Interview with CEO Brett Kopf of Remind
Real World Learning with Glenn Sterner,
Math Fluency
Latest News

DEC 2019 Newsletter in PDF
Dyslexia and Its Gifts
Questions about School MAP Testing
The Arithmetic-Algebra Gap
Reading with ComicsDEC-2019
Questions about IEPs and Online High Schools
Latest Dyslexia News
Applications open for College Scholarships and Karina Eide Young Writers Awards.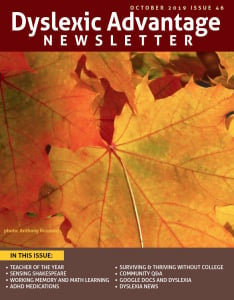 NOVEMBER 2019 Dyslexic Advantage in PDF
Working Memory and Math
Teacher of the Year
Dyslexia and Acting Shakespeare
ADHD Medication Research
Surviving and Thriving WITHOUT College
Study Tips for High School
Make Google Docs Work for You
Dyslexia News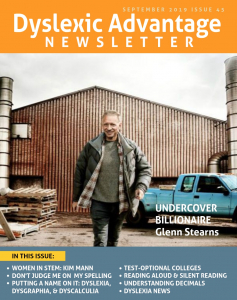 SEPTEMBER 2019 Dyslexic Advantage Newsletter in PDF
C-PEN Exam Reader Giveaway
Thomas Armstrong Mindfulness in the Classroom and The Human Odyssey Giveaway
Undercover Billionaire
Women in STEM
Don't Judge Me on Spelling
Putting a Name on It – Dyslexia Dysgraphia, Dyscalculia
Test-Optional Colleges
Reading Aloud and Silent Reading
Decimals, and Dyslexia News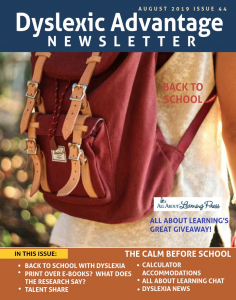 AUGUST 2019 Dyslexic Advantage Newsletter in PDF
All About Learning Giveaway
The Calm Before the Storm
Back to School with Dyslexia
Printing vs. E-Books
Talent Share
Calculator Accommodations for Students with Dyslexia
Dyslexia News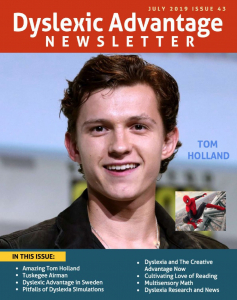 JULY 2019 Dyslexic Advantage Newsletter in PDF
Spiderman is Dyslexic! Tom Holland
Dysexic Advantage meets the Prince of Sweden
Tuskegee Airman shares his dyslexia story
Beware Potential Pitfalls of Dyslexia Siulations
Dyslexia and the Creative Advantage
Cultivating a Love of Reading
Multisensory Math
Dyslexia Research and News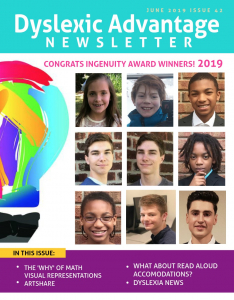 JUNE 2019 Dyslexic Advantage Newsletter 2019
Dyslexic Advantage Ingenuity Award Winners 2019
The 'Why' of Math Visual Representations
ArtShare
Partial Read-Aloud Accommodations
Dyslexia News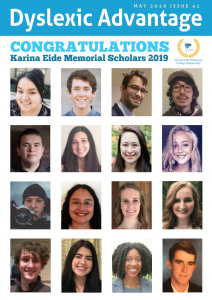 MAY 2019 Karina Eide Memorial College Scholarships of 2019