To Activate Read Aloud, turn on ReciteMe before clicking on the Newsletter Link. Recite me is the red button at the top left of the browser. To turn off, click the X at to right. If you have any problems, contact us at: team "at" dyslexicadvantage.org For more back issues, become a Premium Member.
FEB 2019 Dyslexic Advantage Newsletter in PDF
Dyslexic Tour De Force: Darkest Hour
Chat with Jack Churchill
Differing Opinions: Dyslexic or Person with Dyslexia?
Beyond Elementary: The Reading Snowball
Spelling Difficulties as a Source of Dysgraphia
The Problems with Word Problems
Art Share
Dyslexia News
JAN 2019 Dyslexic Advantage Newsletter in PDF
The Many Faces of Avengers Star Paul Bettany
Breaking the Cycle of Shame
Career of Compassion
David Austin Roses
Why Doesn't My Student Like Uadiobooks?
Tests for Dyscalculia
Latest Research
How to Give Spelling Feedback
Dyslexia News
Submit for Karina Young Writers Awards!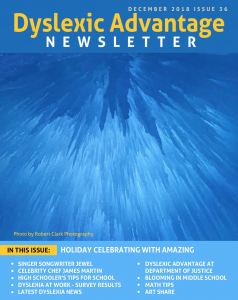 DEC 2018 Dyslexic Advantage Newsletter in PDF.
Holiday Celebrating with Amazing Dyslexics
Dyslexic Advantage at the Department of Justice
Singer Songwriter Jewel and Chef James Martin
High School Tips
Blooming in Middle School
Dyslexia at Work – Survey Results
Math Tips
Art Share
Latest Dyslexia News
November 2018 Dyslexic Advantage Newsletter in PDF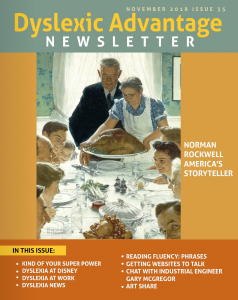 Norman Rockwell's America's Iconic Storyteller
A Kind of Super Power
Dyslexia at Disney
Dyslexia at Work
Dyslexia News
Reading Fluency: Phrases
Getting Websites to Talk
Chat with Industrial Engineer Gary Macgregor
K-12 Artshare
October 2018 Dyslexic Advantage Newsletter in PDF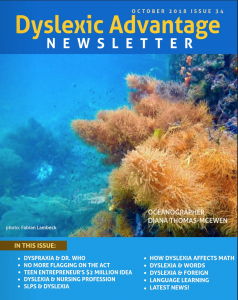 Oceanographer Diana Thomas-McEwen
Dyspraxia and Dr Who
No More Flagging ACT
Teen Enterpreneur's $2 Milion Idea
Dyslexia & Nursing
SLPS & Dyslexia
How Dyslexia Affects Math
Dyslexia & Words
Dyslexia & Foreign Languages
Dyslexia News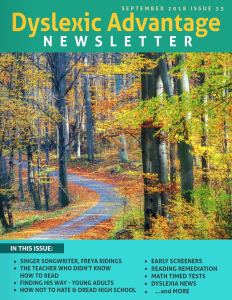 September 2018 Dyslexic Advantage Newsletter in PDF
Singer Songwriter Freya Ridings
The Teacher Who Didn't Know How to Read
Finding His Way – Young Adults
How To Not Hate & Dread High School
Early Screeners
Reading Remediation
No College Degree Needed
Dyslexia News
Reduce Math Anxiety: Eliminate Timed Tests
August 2018 Dyslexic Advantage Newsletter in PDF
Interview with Author Lois Letchford Reversed
Spice Girls – Mel B Discovers Her Dyslexia
Back to School Checklist
Self Advocacy Elevator Pitch
Advocate for Yourself
Stealth Dyslexics – Different from the Start
Battle the Back to School Blues
Dyslexia in the News
Back to School Apps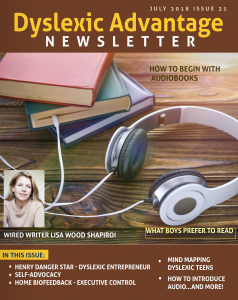 July 2018 Dyslexic Advantage Newsletter in PDF
Henry Danger Jace Norman – Talks Dyslexia
Diana Hanbury King
Lisa Wood Shapiro
Mind Mapping for Dyslexic Teens
What Do Boys Prefer to Read?
Self Advocacy – Common Accommodations and Modifications
How to Introduce Audio
Humorous Poetry
Online Test for Dyslexia?
ArtShare
Home Biofeedback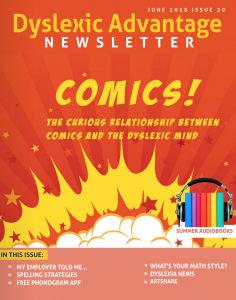 June 2018 Dyslexic Advantage Newsletter in PDF
Comics and Dyslexia, My Employer Told Me…,Free Spelling Phonogram App, Different Math Learning Styles, Dyslexia News, Summer Audiobooks, ArtShare
May 2018 Dyslexic Advantage Newsletter in PDF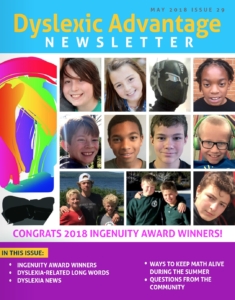 Ingenuity Award Winners 2018! Sneaky Ways to Learn Long Words Dyslexia News Keeping Math Alive Over Summer Technology
April 2018 Dyslexic Advantage Newsletter in PDF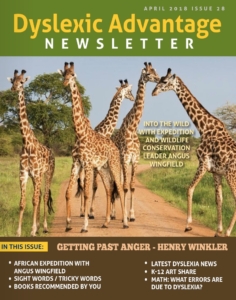 African Conservation with Angus Wingfield Getting Past Anger with Henry Winkler Sight Words / Tricky Words Book Recommendations – By and For You K-12 ArtShare Math – What Errors Due to Dyslexia? Resources for Adults
March 2018 Dyslexic Advantage Newsletter in PDF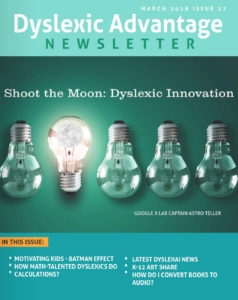 Dyslexic Innovation Google X Lab Captain Astro Teller Motivating Kids – Batman Effect Could It Be Grammar? How do math-talented dyslexics do calculations? How can I get my materials in audio? Dyslexia News
Karina Eide Young Writers Awards Program in PDF
FEB 2018 Dyslexic Advantage Newsletter in PDF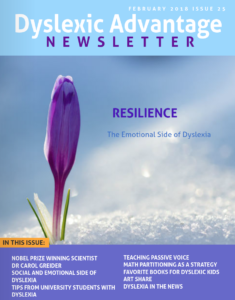 Nobel Prize Winner Carol Greider Social and Emotional Side of Dyslexia Strengths to Foster Resilience How They Do It – University Students with Dyslexia PASSIVE TENSE Art Share Math with Partitions Best FONTS for Dyslexia Books Recommended By You Dyslexia News       SEE BELOW NEWSLETTER ARCHIVES FOR PREMIUM SUBSCRIBERS Please log into your PREMIUM account to view.
When you open the magazine, previous issues can be found in the sidebar.