To Activate Read Aloud, turn on ReciteMe before clicking on the Newsletter Link.
Recite me is the red button at the top left of the browser. To turn off, click the X at to right. If you have any problems, contact us at: team "at" dyslexicadvantage.org
April 2018 Dyslexic Advantage Newsletter in PDF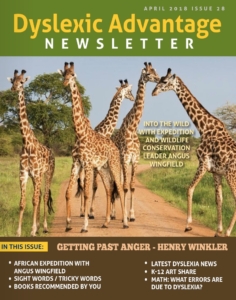 African Conservation with Angus Wingfield
Getting Past Anger with Henry Winkler
Sight Words / Tricky Words
Book Recommendations – By and For You
K-12 ArtShare
Math – What Errors Due to Dyslexia?
Resources for Adults
March 2018 Dyslexic Advantage Newsletter in PDF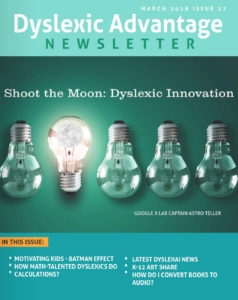 Dyslexic Innovation Google X Lab Captain Astro Teller
Motivating Kids – Batman Effect
Could It Be Grammar?
How do math-talented dyslexics do calculations?
How can I get my materials in audio?
Dyslexia News
Karina Eide Young Writers Awards Program in PDF
FEB 2018 Dyslexic Advantage Newsletter in PDF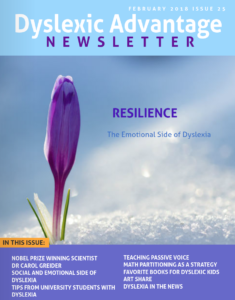 Nobel Prize Winner Carol Greider
Social and Emotional Side of Dyslexia
Strengths to Foster Resilience
How They Do It – University Students with Dyslexia
PASSIVE TENSE
Art Share
Math with Partitions
Best FONTS for Dyslexia
Books Recommended By You
Dyslexia News
JAN 2018 Dyslexic Advantage Newsletter in PDF

Hockey Superstars
Children's Author Illustrator Patricia Polacco
Dyslexia in Higher Education – Archeology
Forgetting as a Sign of High Intelligence
Dyslexia and New Tax Information in 2018
Understanding Nonsense Words
Dyslexic Advantage ArtShare
Dyslexia and Dyscalculia – Number Sense
Great Books for Dyslexic Readers – Recommended by YOU!
Dyslexia in the News
JAN 2018 Newsletter.compressed

December 2017 Dyslexic Advantage Newsletter in PDF

Holiday Tips from Great Dyslexia Designers and Cooks
Pat Buckley Moss, Painter
Do and Think Before Reading[pdf-embedder
Concept-Oriented Study for Snowflakes
Reading in the Mathematics Classroom
Congrats Prince Harry & Meaghan Markle
Karina Eide Writing Awards & College Scholarships Open
Dyslexia in the News
Great Apps
Reading and Spelling Videos
Art Share – Great Works from the Community
Books Recommended by You
November 2017 Dyslexic Advantage Newsletter in PDF
Master Illustrator Jerry Pinkney
Fake News?  Dyslexia Controversy Goes Viral
College Scholarship OPEN!
Karina Eide Young Writers Awards OPEN!
ArtShare
Advocacy Update
Writing in College
Understanding Math Mistakes
Apps & Tech
Book Recommendations
Wordless Picture Books
Latest News
OCT 2017 Dyslexic Advantage Newsletter in PDF
Jacques Dubochet – Dyslexic Scientist Nobel Prize
Film Director Matthew Vaughn
Dyslexia Is My Superpower
Dyslexic Classics Professor Calls for Change
Prevent Learned Helplessness at the Beginning of the School Year
More Research: Dyslexia As a Difference
Screen Children with Reading Problems for Hearing Problems
Bossy R Words Resources
Algebra: Positive and Negative Numbers
Note Taking On a Laptop: Good or Bad?
More Dysgraphia Resources
Apple's Speak Screen
Pilot Multisensory Instruction
September 2017 Dyslexic Advantage Newsletter in PDF.
Weta Workshop Creative Director Sir Richard Taylor
Ptahra Helps New York's Dyslexia Bill Become Law
Sabrina Brazzo, Dyslexic Ballerina
How to Respond to Negative Self-Talk
Best Practices for Dyslexia
Calculator Use: Accommodation or No?
When Spelling Words Don't Stick
National Association of School Psychologists Speaks Out on Dyslexia Screeners
Beyond Combination Locks
Microsoft Updates Immersive Reader
How Can I Create a Dyslexia Friendly Workplace?
Dyslexia in the News

August 2017 Dyslexic Advantage Newsletter.
Jony Ive, Apples Chief Design Officer, ReciteMe CEO Ross Linnett, Meet Tom Guyer of Windsor Learning / Sonday System, Free Audiobook and Text to Speech Resources, Sample Letter for the Start of the School Year, Tips for Survival, What the ADA Means to You in 2017, Visual Motion Research Dr Yeatman's Lab University of Washington, Big Picture of Math – Categorization Landmark, Smart Phones and Dyslexia, Technology Review, Dyslexia in the News.
JULY 2017 Dyslexic Advantage Newsletter    Click HERE.
Dyslexic Design Thinking with Gil Gershoni, Tom West
Seeing What Others Cannot See, Motion Designer Josh Penn, Recent Research Dyslexia in Young Children, Fight Summer Slide, Dyslexia & the Law – Michigan Supreme Court Catholic School Decision, Dyslexia and Drivers Training Manuals, Reading and the Math Classroom, Teacher to Teacher Advice for New SPED Teachers, Dolphin Easy Reader App, Dyslexia News, From the Community: Jaxon Levy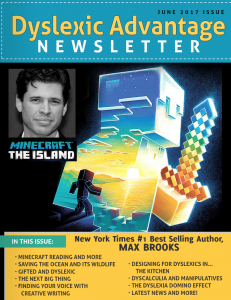 June 2017 Dyslexic Advantage Newsletter     Click HERE
Max Brooks Minecraft the Island, Minecraft, Reading, and More, Saving the Oceans – CEO Kjell Rock, Claudia Brewster – Dyslexic Kitchen Designer, The Next Big Thing, Dyslexia Research – Rewiring the Brain and IQ Discrepancy, Gifted & Dyslexic, Writers Studio Finding Your Voice with Creative Writing,  How We Did It – Homeschooling to Charter to Full Ride College Scholarship in Engineering, Dyscalculia and Math Manipulatives, Advocacy – Dyslexia Domino Effect, Managing Director Jen Bullett

MAY 2017 Dyslexic Advantage Newsletter
Mommy Hulk Guardians of the Galaxy Zoe Saldana Joins the Dyslexia Club, Richard Branson and the Massive Advantage, Interview with Becoming Leonardo Author, Kildonan's Camp Dunnabeck, Training Business in Dyslexia, Surviving IEP Season, Federal Lawsuit for Dyslexic Students, The Puzzle of Dyslexic Musicians, Supports for Dyslexic Students in Med School, Grad School, and Careers, Picking Up Speed – with Reading – Interview with Yvonna Graham of Dyslexia Toolkit, Dyslexia and Math, and More…
Click on Magazine Cover to read, or click HERE.
APRIL 2017 Dyslexic Advantage Newsletter
3 Dyslexic Guys who created Dreamworks, Resilience, Growth Mindset for Math, Fake News Hits Dyslexia (Research), Animator Kristi Weltner, Better Doing Than Saying,  Working Memory and Reading, Dyslexia News, Technology…
Click on the Magazine Cover to read, or click HERE.
MARCH 2017 Dyslexic Advantage Newsletter
Exclusive Interview The Power of Different, Father of Conservation, Designing for Dyslexia, Strategic Thinking, Most Stressful Time for Dyslexic Students, Teaching Videos, Dyslexia and Math, Tech…
Click on the Magazine Cover to read, or click HERE.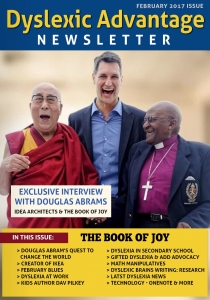 FEBRUARY 2017 DYSLEXIC ADVANTAGE NEWSLETTER

Douglas Abrams – Book of Joy, Creator of IKEA, Fighting February Blues, Dyslexia at Work: Say This Not That, Kids Author Dav Pilkey, Dyslexia at Secondary School, Mom's Advocating for a Gifted Student with Dyslexia and ADD, Math Manipulatives with Colored Chips, Latest Research – Dyslexic Brains Writing – More Not Less, Dyslexia in the News, Microsoft OneNote and Office Lens, Dictionary and Thesaurus.com, Visual Multiplication Table, Carrot Talking To Do App.
Click on Magazine Cover to read – February 2017 or click HERE.
Magazine PDF HERE.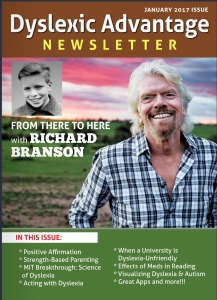 From There to Here – Richard Branson, Positive Affirmations, Acting with Dyslexia, When a University is Dyslexia-Unfriendly, Interview with Dyslexic MasterMontessori Teacher Alison Awes, MIT Breakthrough about the Science of Dyslexia, Dr. Guinevere Eden on Dyslexic Strengths, Effect of Strength-Based Parenting on Children's Stress and Coping, Effects of Meds + Reading Intervention on Students with ADHD and DyslexiaA Chat with Math and Visualization Expert Jennifer Plosz, Dyslexia in the News, Great Apps – Just Press Record, Fantastical 2, Splash Math, Motion Math, Learning Korean,
Click on Magazine Cover to Read – January 2017  or click HERE
Magazine PDF HERE.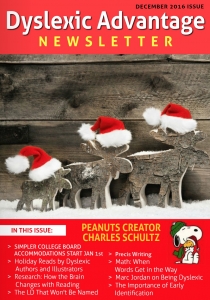 Click on Magazine Cover to Read – December 2016 or click HERE
Magazine PDF HERE.
Holiday Reads by Dyslexic Writers & Illustrators, New College Board Policy for Dyslexia and other LD starting JAN 1st 2017, Precis Writing, Dyslexia & Math – When Words Get in the Way, Prolific Composer Marc Jordan, NPR's Highlight on Dyslexia, Early Identification, Jamie Oliver Bakes, Dyslexia in the News, New Apps Research: How the Brain Changes with Reading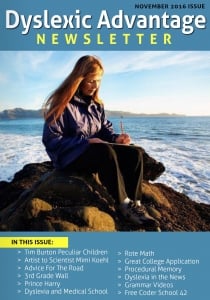 Click on Magazine Cover to Read – November 2016 or click HERE.
Tim Burton's Peculiar Children, Artist to Scientist Dr. Mimi Koehl, Entrepreneur's Advice for the Road, The 3rd Grade Wall, Prince Harry, Dyslexia and Medical School
Rote Math, Great College Application Essay, Procedural Memory, Dyslexia in the News, Grammar Videos
Click on Magazine Cover to Read – October 2016 or click HERE.
How Be Invincible, Dean Kamen Inventor, October is Dyslexia Awareness Month, Can People with Dyslexia Learn Speed Reading?, How Can My Student Be Tested for Dyscalculia?, Karina Eide Young Writers Awards and College Scholarships, How to Read to Kids with Dyslexia, Choosing the Right Reading Level Books for Students with Dyslexia, Math Strategies for Arithmetic – Number Flexibility, Research: Brain Changes During Literacy Development, News from Our Community: Visit with Museum Exhibit Creator Michael Graham, Davis Graham shares his recent Masters from Brandeis, Maelee's School Presentation on Dyslexia, Free Apps Spelling Notebook and Zap Zap Math, Dyslexia in the News
Click on Magazine Cover to Read – September 2016 or click HERE. Why It's Important to Say Dyslexia but also Support Strengths Fred Newman Prairie Home Companion Sound Effects Master Steven Spielberg and His Latest Movie BFG Talking About Life's Big Picture with Marc Rowe Creative Successful Dyslexic Why Dyslexic Excel in Real Estate Font Wars How Early Can You Identify Dyslexia? Can A Person Be Both Dyslexia and Autistic? Critical Review of the Use of Strattera in Healthy Students with Dyslexia Tools for Spelling Teaching Math: How to Approach Subtraction with manipulatives Great Anchor Charts How to Use Text to Speech at Dyslexic Advantage Overcast Podcast Player Punctuation App Dyslexia News: No Homework, Jay Leno, Overcoming Negative Thinking, 'Not Ready' for Kindergarten, UK Dyslexic Families can Sue Local Councils, Open Letter to Pediatricians, The Rise of Speed Listening, Dyslexia and RTI Resources, Save Bookshare
Click on Magazine Cover to Read – August 2016 Back to School or click HERE. Dyslexia and Design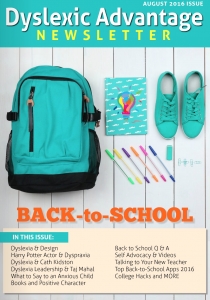 Dyslexia and Harry Potter's Daniel Radcliffe Dyslexic Fashion Designer Cath Kidson Dyslexia & Innovation  and the Taj Mahal What to Say to an Anxious Child Books Featuring Positive Characters with Dyslexia Self-Advocacy and Videos about Dyslexia, Dysgraphia, and Dyscalculia Talking to Your Dyslexic Child's Teacher Accommodations for Dyslexia, Dysgraphia, and Dysclaculia Classroom Ideas for Setting Up a Dyslexia-Friendly Space Dyslexia in the News – DOE Guidelines about ADHD How to Set Up a Strength-Based IEP More Top Dyslexia Back to School Apps 2016 Eric's College Hacks for Dyslexia Things Parents of Children with Dyslexia Want You to Know
Click HERE to Read July 2016. Finding Dory Dyslexic Surf Photographer Dear Lexdyslic Reader (Roald Dahl) Dr. Helen Taussig Getting to the Big Picture Best Dyslexia Screeners for Schools Dyslexic Professional: Meetings How Do You Remember? What Parents  of Students with Dyslexia Want You to Know Free Stuff (Organizing Words) Technology – Coach.me, Kindle FIRE, Easy Spelling Aid Community Q & A – How do I get my dyslexic brain to memorize math formulas? Should I open up to my co-workers about my dyslexia?
Click Here for this issue: July 2016
Click on Magazine Cover to Read – June 2016 The Belief of Fathers Muhammad Ali Dyslexic Mind Behind MacGyver Visual Talents of Dyslexics Film Director Martin Scorsese Count on Your Fingers Extended Time on Tests Timed Guided Repeated Reading Discrimination at Princeton Dyslexic Students on the Rise Favorite Commencement Speech Punished by Opting Out Say Dyslexia Rally in Washington DC North Carolina in Dyslexia Education Free Stuff: Encouraging Kids to Write What to Do This Summer Free Reading Tutoring Resources Technology: Photomath, Readability, Tales2Go Community Q & A: Can Dyslexia Get Worse with Age? Can I Be a Doctor if I'm Dyslexic? Do We Need to Revoke the IEP Research: Machine Learning Influence of Spelling Ability on Vocabulary Choices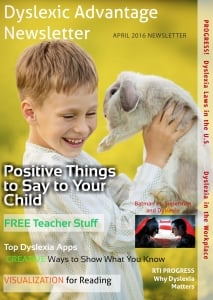 Click HERE or on Magazine Cover to Read – April 2016 Positive Things to Say to Your Child Karina Eide College Scholarship Winners Inspiration Award for Writing – Kat DeWees Superhero Film Director Zach Snyder Free Stuff: Long & Short Vowel Video, Visualization and Reading Comprehension, Creative Ways to Show What You Know Technology: Voice Dream Reader, C-Pen Reader, Make Safari Talk in 1 Minute or Less Vote for the 'Best' Font for Dyslexia Research Surveys: Dyslexia at Work Survey, Dyslexic Adults and Social Media, Research Report: Anxiety, Depression, Resilience, Community and World News: DOE Report Says RTI Hurts LD Students, Starbucks Loses Dyslexia Suit, Dyslexia Laws Progress in the US!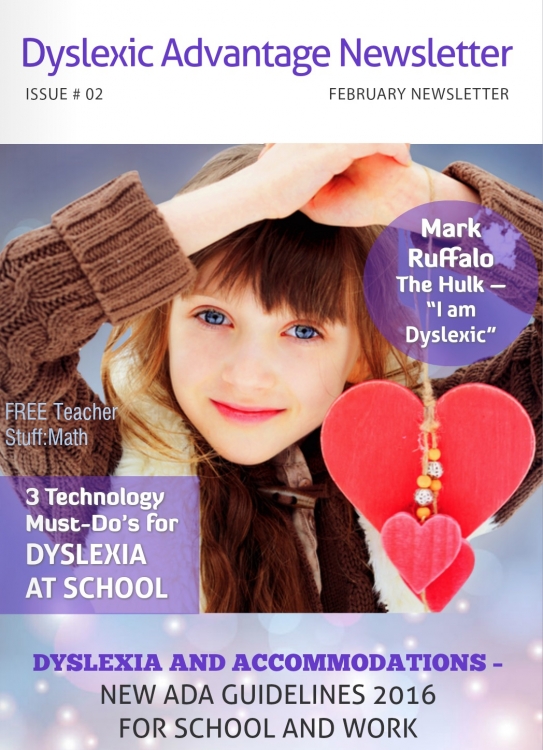 Click HERE for – February 2016 ADA Guidelines 2016 for School and Work Free Stuff: Math – Bar Models, Topp App Microsoft OneNote Premium Magazine Preview Mark Ruffalo – Avengers Incredible Hulk – "I am Dyslexic" Dyslexia, Empathy, Wildlife – Ben Kilham and His Black Bears, MIT Media Lab Inventor: Nicholas Negroponte Life's Insights with Henry Winkler – Perseverance and More Dyslexic Advantage Newsletter Sponsorship 3 Technology Must-Do's for Dyslexia READ Act HR 3033 Unanimous Passes the Senate The Wisdom of Pooh – Mindfulness Daymond John and How He Sees His #Dyslexia as an Advantage Research Opportunities In Case You Missed It Encouraging Students Through Creative Writing Tell Us What You Think!
Click HERE for February 2016 Issue.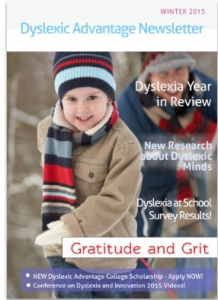 Click HERE to  Read   – Winter 2015 Year in Review 2015 Dyslexia Awareness Month California has a New Dyslexia Law Conference on Dyslexia and Innovation The New Neuroscience of Dyslexia Dyslexic MINDS Teaching to Strengths – Free Resources Karina Eide Memorial College Scholarships for Dyslexic Students Dyslexia School Survey Grit and Gratitude Click HERE for Winter 2o15 issue.
Past Newsletters –