As expected, many students have experienced learning loss because of school changes related to the pandemic. As new cases fall and immunizations rise, school plans begin to take shape.
Although some educational reports have tried to take a rosy picture of the pandemic's effect on education, learning loss appears to be worldwide with the widest losses among lower socioeconomic groups, Blacks and Hispanics, and students with disabilities.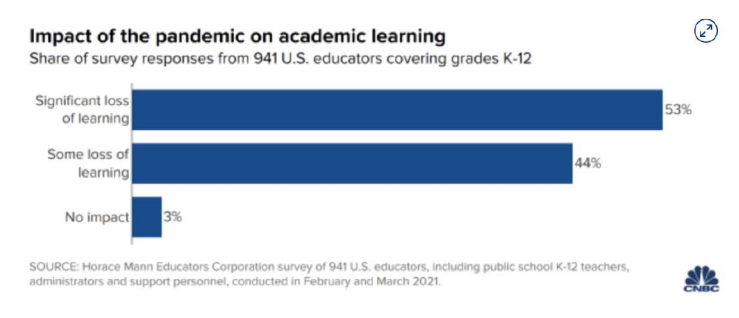 The research firm McKinsey & Company found that learning loss during the pandemic average 6.8 months for K-12 students. In order to make up for losses, the report recommended at minimum 50 hours of targeted instruction over a two week period.
Many states put waivers on dyslexia screening, teacher training, and intervention requirements due to the pandemic, although when some students began returning to school on a hybrid schedule, students on IEPs may have been prioritized for return.
Recently, we were contacted by a large school district in California that had been trying to administer the Shaywitz screener as part of their early dyslexia screening requirement. They were contacting Neurolearning about their dyslexia assessment tool since too many students were being identified as dyslexic because their scores were lower than expected for their grade and age…but the norms for the Shaywitz screener were also developed before the pandemic.
The Neurolearning screener uses an AI algorithm to look at differences, and so doesn't have the issue that age- or grade-based norms have. No doubt there will be more trouble ahead as school districts try to figure out what post-pandemic standardized test results mean.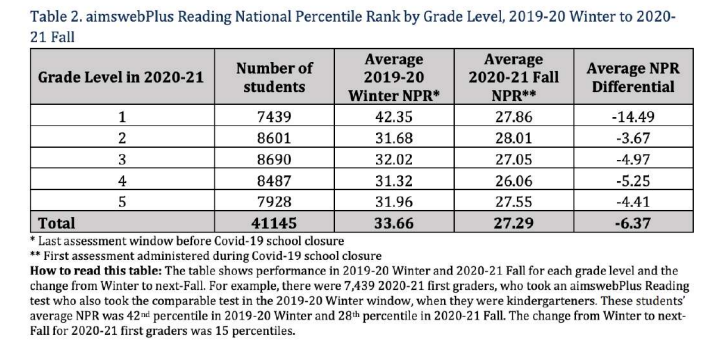 In the above, the youngest students (and the least experienced readers) were the most likely to show pandemic learning loss in reading.
Now, it is also clear many are in the "same boat". Some parents of dyslexic students have told us that the switch to remote learning helped them to become aware of the problems their students were having keeping up with their classmates. Others found their comprehension of classroom work increased when they had a chance to replay lectures and use assistive technology for listening to books and notes.
The entire McKinsey report can be found HERE.
Teachers gave remote learning poor marks across the board, but private schools and schools in wealthier districts fared better.
College-bound students found some reprieves in the area of standardized tests as overwhelming numbers of colleges and universities shed their requirements for the SAT and ACT for the 2021 and 2022 school years (HERE). Because many dyslexic students struggle with standardized tests, the waiver of such tests may come as welcome news. Students who do well on such tests and homeschooling students who look to the tests to provide outside proof of their preparedness for college may be disappointed. The College Board and ACT are anticipating that their tests will be offered in the late summer and fall, though, so for those who would benefit by test scores or need them for scholarships for college athlete requirements, may still end up taking them.
Nothing is completely predictable of course though – it is always possible that the appearance of some dreadful COVID variant could upturn even the best laid school plans…but lets hope not! We also look forward to a resumption of school athletics and extracurriculars that provide much needed physical and creative outlets while also helping develop non-school strengths.
WHAT SHOULD SCHOOL LOOK LIKE?
First of all, everyone should take a moment and appreciate all the work and courage it took to make it through last school year.
Although there were significant disruptions in the past school year, for dyslexic students in general, there have also been benefits for students having more breaks in their school day and fewer assignments expected. If your student has lost progress or stalled, I'm sure you are looking forward to a return to more normal school days.
Cult of Pedagogy's Jennifer Gonzalez recently had a helpful post about the return of school in the fall. Many of the changes she calls for would definitely result in a more dyslexia-friendly education.
SOME HIGHLIGHTS
1. Less fluff or "busywork."
2. More project-based and movement-based learning.
3. More collaborative work.
4. More pre-recorded content.
5. More feedback, fewer grades.
6. More opportunities to improve. ("If we can make room in our plans to allow students to re-do assignments, we're likely to see more growth.")
7. More fluid and incremental deadlines.
8. More open-resource tests (that is, open book, but also option to access the web; the goal of such a test is to demonstrate understanding and synthesis of material.
9. More universally-designed learning experiences.
10. More introvert-friendly options for participation.
11. More remote and hybrid pathways.
12. Better representation in classroom materials.
13. Regular dedicated time for relationship building.
14. More fun.
You can listen to Jennifer's podcast HERE.