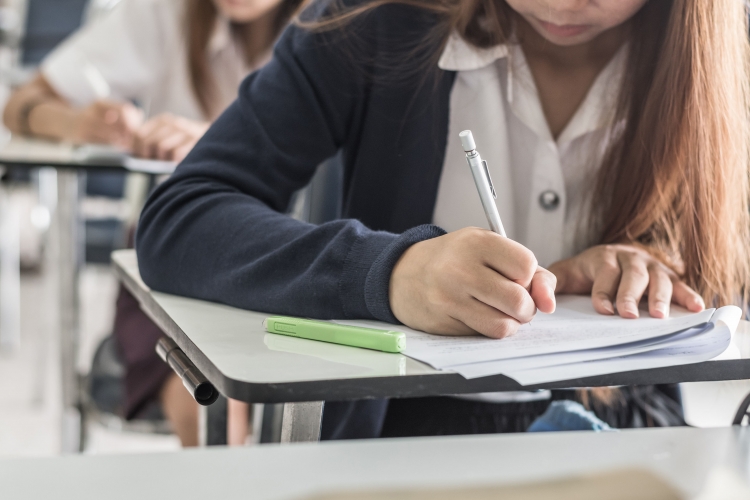 As dyslexic college students are entering 2- and 4- year colleges in increasing numbers, questions arise as to the impact of dyslexia-related challenges on essay writing. The National Longitudinal Transition Study-2 had found that although a majority of LD students in high school requested accommodations (91%), only 17% requested accommodations in college.
A problem with this situation, is that the net result is written work (especially timed written work) will typically substantially underestimate a students' fund of knowledge and understanding.
A recent study at Oxford Brookes University showed that college students with dyslexia matched their non-dyslexic peers in terms of word diversity, ideas, organization, sentence structure, and even grammar. The tasks in which they scored lower than their peers were so-called "low level transcription skills" that included the speed of getting words down on paper (handwriting fluency) and spelling accuracy, and working memory.

Students' spelling accuracy on essays was lower than spelling to dictation; the author speculated that the likely reason for this was that the extra working memory demands of essay writing took its toll on spelling in that context. The authors also noted that the overall percentage of spelling errors was small – at just 3% of the words in the writing samples.
Issues like essay length in the work of dyslexic students matched the length of work submitted by spelling-matched students.
The need for extended time for dyslexic students was very clear. The average handwriting fluency for dyslexic students approached 12 year old norms although the median age of students was 25 years of age.
In terms of the reading tests done on students, college students with dyslexia read real words at the same level as non-dyslexic students; however, their reading of nonsense words (an estimate of phonological skills) was significantly worse. At the college level, weakness in nonsense word reading is likely to add to the burden of reading and spelling academic technical vocabulary and foreign language words.
The authors finished their report briefly discussing the justification of dyslexic student receiving more time as well as the benefits of word processing and spell checkers. Also helpful was the authors' mention that dyslexic students may also need more time for word processing and that even dictation to a scribe or software program are also not without challenges.