"One of the things I love about startups is I get to engage the strategic thinking part of my brain across a broad set of things…"
John Edgar introduced me to Justin from Macrometa and he shared his career and dyslexia story with me:
"What I do now is, I work in a very early stage startup. So I do a lot of different things. Part of it's visual, I manage user experience. With UX UI, or Developer Console, our company is kind of like cloud computing, like Amazon Web Services.
We just have a little different play on it, where we do a lot of similar things to what Amazon does, we just do it all distributed across multiple locations, and we manage data to be consistent across all of those various locations…I think most of what I do is more high level strategy, but then, like a layer down from that it does boil into visual stuff."
Justin's current title is Director of Marketing and Developer Experience. How do we connect the dots.
When he was in the 3rd grade and the school had told his mother that they wanted to hold him back? She said "Absolutely not," and things ended up working out for him anyway.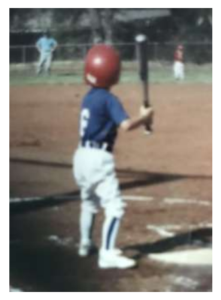 When Justin was young, he recalled playing with legos and kits of model sports cars and jets and doing things with his church youth group. In high school, he remembered enjoying physics and geometry and doing well in those courses, but he felt he couldn't apply to college in physics because over all his grades weren't "there." His older brother applied to CalPoly in engineering, and got in, so when it came time for him, he decided to go there as well, but as a business major.
While in school, Justin had been saving up his money with the idea of moving to San Francisco. He moved to San Francisco without a job, but went to a job fair and got a job with a training company that ultimately helped him sell training to big companies like NASA and the Ames Research Center down in Mountain View. The next job he got was through a Linked-In ad, but ever after that, his job offers have come through business relations and word-of-mouth.
It was when Justin was working in sales that he began noticing that he was excited about working with up and coming startups. He liked the energy and the ideas of these startups so he joined a company called Talari Networks…but ultimately this startup folded. He knew he could take another sales job, but instead he got an idea of creating a startup that brought software developers together so that they could work on jobs in exchange for equity. He also decided to learn programming during that time. The business he started didn't work out, but a friend had just started a company called Keen IO which was a data platform tool for analytics. With Justin's background, his friend thought he would be a good fit to work a position involving Developer Relations.
What also was great for Justin at this company was that the founders encouraged employees to use their position at the company as a platform for self-discovery rather than having a corporate philosophy that your job with them should be everything. It was around this time, Justin said, that he also became more introspective and he learned that he was dyslexic.
Justin's job today is still in this area of Developer Relations. Outside the company, he's a technical liaison educating them about the company's products. When the founders at Macrometa reached out to him, saying they were looking for someone with experience in product management, developer relations, and sales, he fit the bill exactly. The fact that he had some entrepreneurial experience was also an asset.
Justin: "I really, really liked the guy, the tech is super cool. It's been just about eight months since I took the job. But that's kind of like the long winded way to say, that I attribute my variety of experiences and kind of different path to dyslexic brain… When I was younger, I did a lot of different things that seem very disconnected, but they all brought me to the place where I am today and make sense."
For those looking to get started in programming, Justin recommended Javascript for its ability to do things both in the front end and back end, and to make apps. He also said Ruby and Python for back end programming. He said the community for Ruby is great.
I asked Justin if he had any advice for young people – and here's what he said:
"Do something that you're passionate about, and make it like a hobby, or a side project, whatever that is…" As an example, Justin mentioned how he got together with a friend to put on a fundraising event to help people who had been the victims of human trafficking. They raised $15,000, brought in some notable artists, and brought in support from different websites. Justin, again: " start to have a body of work that doesn't have to be cohesive, but just do stuff, just the stuff that interests you. And that showing, well, first, you're investing in yourself and following your curiosity, but you're showing that to other people. And that's, that's a very powerful thing. People are attracted to that because, you know, at the end of the day, whatever you do is just about the other people. Right? And so, it's not always skills that gets you in the door. It's like who you are and how you connect with the other people that you're talking to. And so, I feel like if you're putting yourself out there, and even if it's not like what you would consider excellent or your best, it's still very meaningful."
I've also uploaded his entire interview to our Premium podcasts HERE under Dyslexia at Work and Justin Johnson Tech Executive.