Despite all of the mechanical and logistical challenges of writing for dyslexics, there are many for whom writing is a strength.
What makes good writing?
So many things, but keen powers of observation, a good sense of humor, insight, feeling, these are all things that make good stories and storytelling.
For some kids and adults, keeping a pandemic journal is therapeutic. It's not limited to text. COVID comics anyone?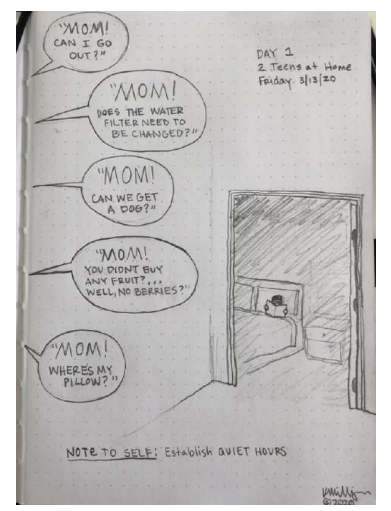 Historians or watchers of Antiques Roadshow may recall how interesting pandemic or war time journals of the past were to transporting them into all the places and times of crises.
Smithsonian has a post about the 1918 influenza diaries for those who might want to get some historical context on our present.
Some people find that writing a gratitude or silver linings journal is more their speed during these constantly changing times. There are all sorts of sites with examples and journal prompts or templates to help with this.
Other Ideas?
INTERVIEWS AND WRITE TO AN AUTHOR
Many people are at home more, so it's easier to schedule an interview with family members, local experts, or even a favorite author? Check out the twitter hashtag #writetoanauthor to find authors who are interested in hearing from kids.
PENPALS and DIALOGUE JOURNALS
Edutopia has a nice list of writing suggestions that include writing to penpals or engaging in dialogue journals that involve students or students and their teacher writing and forth to each other. Cult of Pedagogy has examples of such journaling (see below also).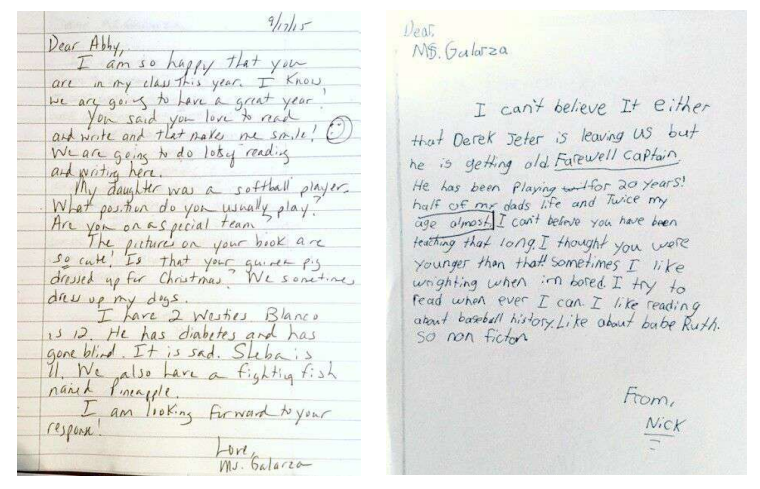 "SLOW LOOKING"
Finally, "Slow Looking", an approach to learning through close observation and deep thinking is an approach described by Harvard educator Shari Tishman that lends itself toward writing and sketch, reflection and discussion. This type of learning is often ideal for dyslexic students who are keen observers and deep interconnected thinkers.
Here are a few great links to get started with Slow Looking:
Simon Brooks
"In workshops with teachers, I frequently deploy Parts, Purposes and Complexities to have teachers look closely at the constructedness of a guitar (see below), and they are typically amazed not only by how much they see that they have never noticed before, but by their own growth of understanding in terms of a guitar's functionality, with no explanatory input from me. There is so much learning to be done when we slow down and discover for ourselves 'the intricacies of objects, systems, and relationships' "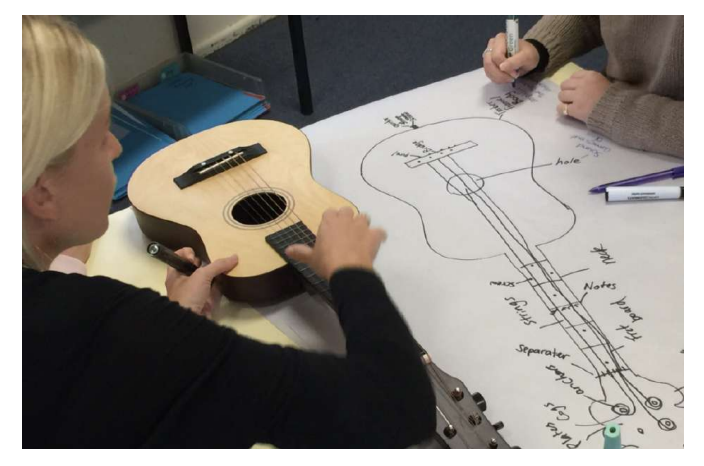 There is also a great resource site called Out of Eden. It's a project of the Harvard Graduate School of Education and it has many free activities for students and educators and even has a way to connect students doing these activities all over the world.
An example of one of the activities: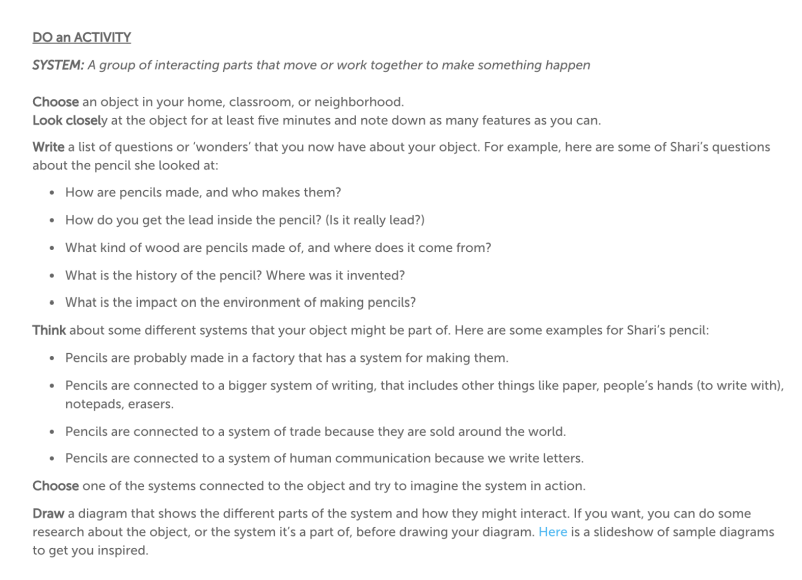 Activity list: Connecting Everyday Objects to Bigger Systems, Connecting Our Livesto the Past, Creating Neighborhood Maps, Documenting the Everyday, EverydayBorders, Learning from Other Generations, Listening to Neighbors' Stories, Walking the Everyday.