If you're the parent of a third grade child with dyslexia in the public school system, your student may be having an especially difficult time.
Some of the struggle might be understandable as classrooms attempt to move past learning to decode to reading to learn (see post Dyslexia and the Third Grade Wall), but there are additional pressures placed on students due to reading loss from the pandemic in addition to institutional pressures to get students "reading by the third grade."
RESEARCH ABOUT READING AND THE THIRD GRADE
One of the compelling forces behind the pressure for 3rd graders has been a report by the Anne Casey Foundation titled, Early Warning: Why Reading by the End of the Third Grade Matters (learn more HERE), but although the report accomplishes good things like improving funding and training for early literacy, it can also place unnecessary pressure on young dyslexic students – especially as many schools are woefully behind in terms of identifying and specifically remediating dyslexic students.
Teachers are also unnecessarily pressured to "get their students reading" even if it might just take longer for some students because of co-existing processing issues, working memory overload, dyspraxia, or second language learning. What is true is just providing more of ineffective curricula or infusing punishments or anxiety into the learning to read process may end up doing more harm than good.
DYSLEXIC STUDENTS MAY BE ESPECIALLY SENSITIVE TO EMOTIONAL CUES
Because as a group, young dyslexic children seem more emotionally sensitive to external situations, we should give more attention and not less to the importance of the social and emotional well-being of dyslexic students.
NEGATIVE CONSEQUENCES OF "READING BY THE END OF THIRD GRADE"
Although there may have been good intentions to get all children reading by the end of the third grade, there are also potential negative consequences – for instance adding stress and feelings of failure to students who can't make this deadline.
Currently, funding and support for dyslexia or literacy-related challenges are overwhelming focused on K-3, leading older students struggling to receive appropriate identification, supports, and remediation. Focusing efforts on the youngest children may mean over-diagnosing some students at a time when great variability may exist between students. Young students are less test-experienced and more distractible, while others may not perform as well as peers due to being slower bloomers, second language learners, or having less exposure to reading and phonemic awareness.
Again, the idea of identifying dyslexic children early is a worthy goal, but announcements of K-3 literacy programs all too frequently accompany negligible additional funds to help older students… and if severe difficulties persist for students at these older ages, more help is needed, not less.
MANY DYSLEXIC PEOPLE LEARN TO READ OLDER THAN THE THIRD GRADE
If people interpret the Casey Foundation studies to mean that reading interventions are not helpful beyond the 3rd grade, then they are wrong, wrong, wrong. In the hundreds of dyslexic adults we have interviewed over the past decade, many told us they only learned to read years later.
For MIT professor Cathy Drennan and Princeton rocket scientist Dave McComas, it was around the age of 12 or the 6th grade when reading finally happened. For others, it was their 20's or adults who never were remediated found their careers, became CEOs, despite relying largely on "guess-and-go" strategies studying with others, and learning from lecture. What that also means is that it's never too late to learn. Seniors can learn to read as well as people of every age in-between.
In this study of adults with dyslexia (median age 44), here are the results of 8 weeks of 3 hr a day multisensory and imagery-based dyslexia intervention (Lindamood Bell).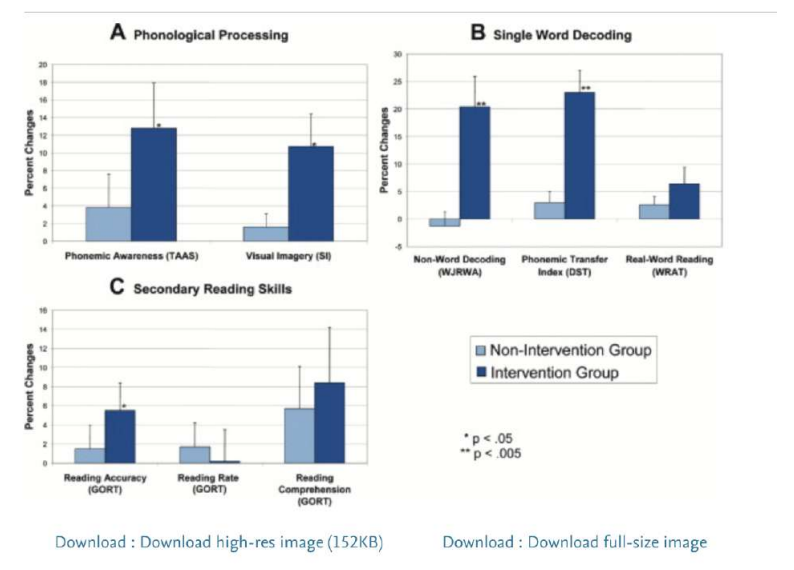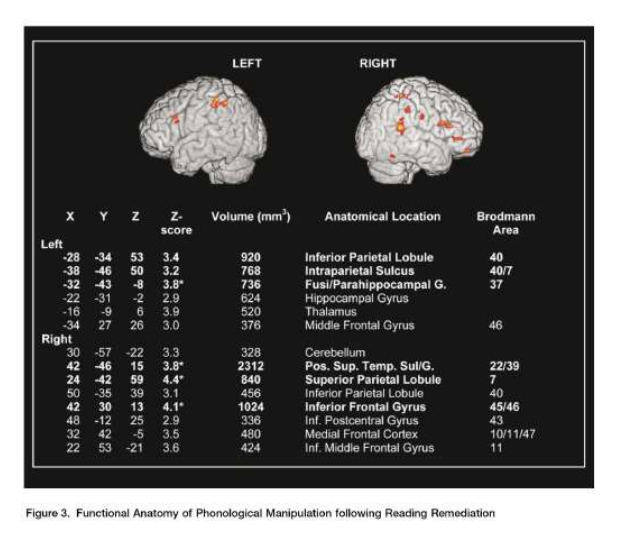 In two months of training, you can see quite significant progress in phonological processing and single word reading – and improvements in reading accuracy and comprehension, too, but reading rate still lagging.
More intervention than two months will be necessary to see improvements in reading rate – but this is clearly progress and the changes in brain scans show improvements similar to those seen in remediated dyslexic children.
WHY SOME STUDENTS TAKE LONGER TO READ
There are many reasons why students take longer to read and some reasons relate to the nature of processing differences, working memory, and other factors such as dyspraxia, and executive function. But the most important thing if you are working with such a student is to encourage them and not add to any stress. Find outlets for their non-reading-related interests whether it's sports, the arts, the outdoors, or whatever else – and help connect them to technology or multimedia to make sure they have full access to learning.
In our experience, there is often another spurt in abilities that dyslexics have around the 6th grade, and then around 9th, and then in the early 20s. Sometimes it may seem that little progress is being made, but just continue to work steadily, then you may suddenly see a surprising jump in abilities.
Some students who really have great difficulty with reading, may have very strong auditory skills as a result – so cultivate those skills and look for opportunities to develop talent – for instance in public speaking or even debate.
SLOWER TO REMEDIATE DYSLEXIA MAY BE SUGGEST A SPIKY PROFILE; LOOK FOR STRENGTHS
Sometimes severe or resistant dyslexic students or adults are signs of an individual with large differences between areas of strength and weakness – or the so-called "spiky profile" person. What that might mean is that while reading remediation proceeds in a slow-and-steady fashion, look hard for talents and abilities that may come easily…this might take the form of spatial talents that manifest themselves with an ability to build, visualize, and understand how things work.
Easy to remediate dyslexic students aren't necessarily the "smartest" or "most capable". In fact in one of the best longitudinal studies of dyslexic students, Margaret Rawson's Dyslexia Over the Lifespan, she well noted: (those)… who were early diagnosed as having severe to moderate specific language disabilities have achieved at least as high levels of education and socioeconomic status as their linguistically facile classmates."