"Where Native people come from, everything's not in straight lines."
– Johnpaul Jones
Johnpaul Jones is one of the world's leading architectural architects and landscape designers, and he is also dyslexic.
He was the lead design consultant for the National Museum of the American Indian, the Bainbridge Island Japanese American Exclusion Memorial, The Southern Ute Cultural Center and Museum, Vancouver Land Bridge, Mountains to Sound Greenway Plan, Oregon Zoo Educational Center, Longhouse Educational and Cultural Center, and Gorilla Conservation Research Center, among many, many others.
He has said that his aesthetic was inspired by his Choctaw – Cherokee mother's four world perspective: natural animal, spiritual, and human.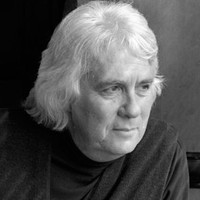 Johnpaul describes his early life as being a "bad boy" and "dyslexic." He struggled in school, and for a long time, figured that he would join the military if no other job presented itself.
After high school, by chance, he took a job as an office boy in an architectural firm. There, he credits two architects with taking him under their wing and letting him job shadow them. Based on his drawing skills, he soon advanced from office tasks.
As his confidence grew, he thought about applying to UC Berkeley on a water polo scholarship. He flunked the foreign language requirement and decided he couldn't survive serious college work there anyway.
One of the architects at Johnpaul's firm recommended the University of Oregon's architecture school and the firm paid for a plane ticket that let him visit the campus. He remembered that he didn't talk to any students, but visited the art department and ultimately got in and graduated from the program.
Chester Root, one of the architects at his firm, even managed to get his scholarship transferred to the University of Oregon. Grateful for the help, apparently Root encouraged him to pay any goodness forward after he became successful and Johnpaul has tried to do the same ever since.
Read more about Johnpaul HERE. Look at the beautiful designs he helped create!