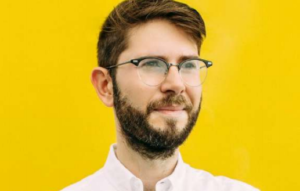 As Chief Technology Evangelist and VP of Strategy at Digital Ocean, John Edgar helped grow the company from #1000 to #2 cloud provider in the world (second only to Amazon).
How did he do it and how did he arrive at the top of his profession in technology, after leaving high school feeling as if he could never get accepted as a computer science major?
Look at John's references on LinkedIn today and you'll see some impressive recommendations from tech industry leaders. For example:
"In the year that John and I worked together at DigitalOcean, he transformed from growing the tech evangelism team from nascent to one of the company's most critical and lucrative marketing channels, to a self driven one man fixer who successfully identified critical weaknesses in departments from hiring through operations, people, and compliance, and successfully filled those holes with the best people from all over the world, and processes he found in other companies."
"John Edgar is probably one of the single smartest humans I've ever met. I knew within minutes of talking to him that I would join DigitalOcean because he knew exactly what they needed to do to succeed. If I had to place a bet on a big thinker to take over the world I'd put all my chips on John.
Wow! Pretty impressive. John now recognizes that he has severe dyslexia and dyscalculia, but neither of these challenges were formally recognized in school. As a result, like many others in this community, his formal education up through high school was undistinguished. Outside of school, though he had found working with computers pretty easy and had already set up several websites for others when he was in high school and living on a rural farm in Scotland.
John's career prospects looked grim in the early period out of high school, but a call from his guidance counselor (after he had graduated) put him on an entirely different track. She told him that she heard about a new program opening at a nearby vocational college. It was called "Creative Digital Imaging" and it seemed like a good fit for his interests. To top it all off, too, she offered to help put together an application for him.
The program indeed seemed to be a great fit for John and he started a film company before he had graduated. Instead of becoming an apprentice at an established company, John thought that with the skills he learned in this new program, it would be an ideal time to launch a company of his own. His little company did well and even won a few Emmy's. He ended up leaving a few years later at the age of 23 when he and his co-founders (a husband and wife couple) decided they wanted to take the company in a different direction.
While in New York and exploring his options, John spoke to founders of an innovative cloud hosting company. The company hadn't yet gotten funding, but he was intrigued with the idea of joining them. By this time, John was thinking about working more in a business role that was artistic; he also realized that he didn't have sufficient software development experience to make him ideally suited for a role he wanted, so he decided to go back to Toronto, take a job "for next-to-nothing" in order to gain experience, with a plan of returning to New York and looking up the company when he was ready.
John took a job in software and product development at MyPlanet.com. That company was rapidly scaling up (50-100 people) and soon he found himself as product manager of a project with a large enterprise client…a great experience!
About a year later, when it became possible to return to New York again, he was told he could take a job that had a title of Chief Technology Evangelist if the could be in New York in just 4 weeks. In the next 5 years, John would help Digital Domain to grow from being #1000 in cloud computer to #2 in the world.
There's a lot more to learn from John about his journey toward growing Digital Ocean. Since leaving that company, he co-founded Stae, a company that "makes managing city data simple", and now operates a consultancy, advising companies like Netlify and Codesphere.
My full interview with John will be posted with our Premium podcasts.