To Read This Content – Login or Subscribe as a Premium Member

[it-exchange-member-content membership_ids="1879,1870″]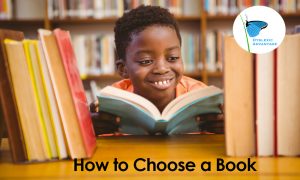 How Can We Help Dyslexic Students Choosing Books? Here are a Few Tips…

Say Yes as Often as You Can  Dyslexia by its very nature presents with a gap between intellectual or conceptual ability and reading, so it's like that sometimes student will want to choose a book much higher than his or her reading level, whereas at other times, surprisingly pick a book much lower than their intellectual ability would predict. What your student is doing is selecting a book for a particular purpose. Higher level books feeds their intellectual hunger, while the lower book helps them skill build – for students who want to really master reading not just get the gist.
Preview Books and Read Together If the book is a reach book, then consider previewing or chatting about the general topic before the students dives in. For fiction books with long sentence lengths, consider reading the first few chapters to help with the setting and character names that can be helpful to set the context of the book, but also help with uncommon words that may be difficult to decode phonetically.
Try High Visual Books and Non-Fiction  Some students like books and magazines that have lots of visual material to support the text. Pictures also break up long blocks of text, making it easier to read. Some longer highly visual books may be humorous (Diary of a Wimpy Kid) or non-fiction (science, nature) or graphic novels. Non-fiction books may be more easily read by some students because they are starting with greater background knowledge about a subject so they can make educated guesses about words they don't know.
Try Book Series and Hi-Low Readers  Other types of books worth knowing about include book series that your student is already familiar with (Magic Treehouse, Junie B. Jones, etc.) or so-called high-low readers that can generate high interest, but require  low vocabulary or reading level.
Ebooks   Finally Ebooks!  Ebooks through Bookstore, Learning Ally, Amazon, Barnes and Noble, Microsoft, or the Apple store. Ebooks can be more engaging because they are interactive and have text to speech options. US students with dyslexia are eligible for free digital books from Bookshare.org because of a grant from the Department of Education.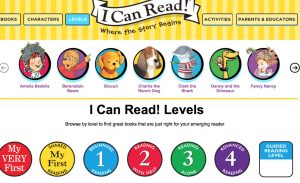 How Do I Find the Right Book Level?
For very beginning readers, libraries often have many books in the I Can Read series. Many other books have age listings on the back cover (sometimes it just mentions agerange). If there are books that you child enjoys, then you can also put the book into online sites like Scholastic's Book Wizard. For Scholastic's site, if you enter in a book that's a favorite with your child, then select the Book Alike button to the right of the book, and then many books at the same reading level will be listed. There is also a nifty tool that can allow you to adjust the level up or down. In the example below, see I typed in Danny and the Dinosaur into Scholastic's Book Wizard. It gave me a Reading Level of 2.7, at a similar level to the Father Bear books.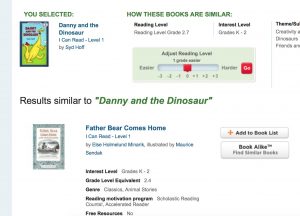 These levels can be used in a general way too follow how a student is doing with reading progress.
In Dyslexic Advantage's Dyslexia at School Survey, we were surprised to see that over 2/3 of parents of dyslexic students in public school reported that their student was being given books they couldn't possibly read. The Scholastic tool or others like the Readability Score can also be used to point out the need to have assistive technology (aka a text to speech option) for Science and History books at school.
For the Readability Score tool, you can just type in a paragraph to get an estimate of the reading level required for comprehension. Some students may have difficulty with off-the-rack text to speech programs. Young children and people of all ages with more significant auditory processing challenges prefer human read audio – and professional voice talent over volunteers. Text -to-speech voices are getting better though, and because Bookstore is a source of free books for US students, many find that purchasing a premium voice + Bookshare on a mobile device is a convenient practical option. Public libraries also often have free digital books like Tumblebooks or Overdrive Media.
Where to find Hi-Low books? There are special publishers like HIP (High Interest Publishing) and Barrington Stoke.
What about reviews of graphic novels for children? Check out this librarian's site: http://noflyingnotights.com
For more great advice on this topic, check out a classic article in the reading field by Rog and Kropp:
Hooking-Struggling-Readers

[/it-exchange-member-content]