"My teachers loved me first and taught me second…"  – Chad Beam 3x Teacher of the Year
Chad Beam has won Burns High School's Teacher of the Year for the 3rd time in 2019.
From the Shelby Star:
"That floors me. I'm the dyslexic kid. I'm teaching what I couldn't do. It gives me chills to say that…I'm the LMNOP kid (when he was a student, he thought LMNOP was one letter)."
Today it's easy to see why Chad is so inspiring to many students.
In his high school English class, when studying Hamlet, he used duct tape to draw a line down the middle of the class and students were divided into Norway or Denmark with flags of respective countries facing each other. Students became so engrossed in the story, they started calling each other by Norway and Denmark instead of their own names.
Chad shared that although there were many teachers who supported him over the years, it was April Bolejack who told him that she refused to let him become "an African American statistic."
After he became a teacher and she retired, he went on to inherit many of her books and pictures, and also adopted her practice of keeping a pot of coffee at the back of the room. Students were also invited to drop in during lunchtime or breaks to chat. It gave many a positive nurturing place at school.
When Chad was a junior in high school, he was reluctant to take higher level English classes but he credits his teachers with helping him realize that he loved words. Once he got through the obstacles of reading, he could also relate better to the characters in literature. Today he's helping his students realize their connections to the past, too.
Chad's back story is that he initially went to college on a football scholarship and majored in graphic design. He started a business in graphic design at first, but switched gears when that career didn't pan out. His first step in a new direction was tutoring kids at his old high school. Next, he taught a class on leadership.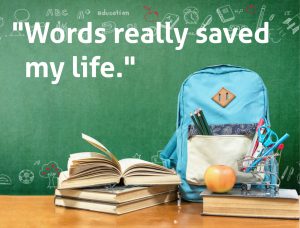 It was April Bolejack who reminded him of his talent with words and it was April who also convinced him to complete an extra 12 credits and become a teacher. He's never looked back.
Today Chad is in his 15th year teaching and he has a daughter in college and a son finishing high school. His wife is a social worker at the school.
If Chad hadn't become an English teacher, he thinks he would've turned to dealing drugs. Today, he is really making a difference in the lives of his students.