"When I see a property I can instantly construct a new house on it. I can see exactly how that house is going to look, and I can walk through every room in that house, and out into the garden, and everywhere. I can turn my thoughts into reality…I can do a detailed walkthrough inmy mind of every house and property we've ever built." – Glenn Bailey
"She knew everything. Every building. I thought it was amazing what she had, just in her head." – Carol Bale about Louise Phillips Forbes
It's no accident that some of the most influential names in real estate are dyslexic. Shark Tank Barbara Corcoran turned a $1000 loan from a boyfriend into a $5 billion dollar real estate empire.
All 4 Dyslexic MIND strengths can be in play for a highly accomplished realtor. Having a strong spatial abilities can turn you into a person with an encyclopedic knowledge of buildings, floorplans, and neighborhoods without even trying. Meeting with and remembering people's quirks and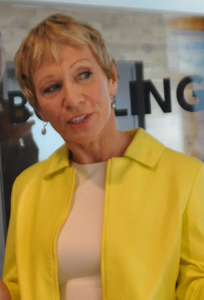 personal preferences, hobbies, family members, and lifestyle is also a natural fit with a person who
has a rich autobiographical memory. Many dyslexic people that we've interviewed in leadership positions also have a knack for connecting people – and this strength also can help buyers find the right architects, designers, lawyers, schools, and even personal chefs for their new home. Said celebrity realtor Aaron Kirman, who helped find homes for Rihanna, Nicky Minaj, and fellow dyslexic Orlando Bloom. For buyers who want to renovate, having a dyslexic realtor can be a boon because of an ability to visualize and understand changing real estate trends.
Fortunately too, the barriers for entering real estate are not high with some established real estate leaders even suggesting that young people skip college before entering the field to avoid significant amounts of debt. In recent research, real estate was listed among the top ten highest paying jobs for high school graduates without a college degree.
"It made me more creative, more social and more competitive," Corcoran said. "There's a great freedom to being dyslexic… if you can avoid labeling yourself as a loser in a school system that measures people by As and Bs. And the kids that are so good at school, that don't have to fight for it, very often they don't do as well in life and business because they're not flexible.