Dyslexic Advantage
Karina Eide Memorial College Scholarships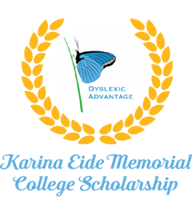 Karina Eide Memorial College Scholarships for Students with Dyslexia
Congratulations to the Karina Eide College Scholarship Winners of 2021! All awards have been made and the winners can be seen in our April Newsletter. 

As of the end of Fall of 2021, we do not have the funds to be able to offer this scholarship in 2022.  It's possible this could change – if so we will announce this in our newsletter and all our social media channels. 

If you wish to support this important scholarship program, you can send a check to Dyslexic Advantage 6701 139th Pl SW Edmonds WA 98026-3223 or donate HERE.
There is no GPA minimum and because of international regulations, only United States 2-year and 4-year college or university students are eligible to apply. Because of the pandemic, we do not know if we will have funds to offer a scholarship in 2022.
You must be at least a freshman in college to apply (successfully completed at least 1 quarter or semester before the scholarship is awarded). High school students or graduate students are not eligible. You also must be attending a US college or vocational or technical school. Applicants must have demonstrated financial need, dyslexia documentation, short statement and resume, and at least one successful term at the college level. Dyslexic Advantage encourages prospective applicants to subscribe to the organization's free newsletter to keep up with scholarship announcements.
Download pdf here: https://www.dyslexicadvantage.org/wp-content/uploads/2020/10/Karina-Eide-Scholarships-2020.pdf
[3d-flip-book mode="fullscreen" id="203513″ ][/3d-flip-book]
For 2019 winners: https://www.dyslexicadvantage.org/wp-content/uploads/2019/06/NewsletterMAY2019.pdf