Dyslexic Advantage
Karina Eide Memorial College Scholarships
Next Application period starts in January 2021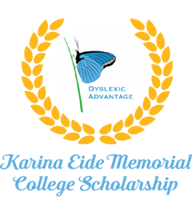 Karina Eide Memorial College Scholarships for Students with Dyslexia
There is no GPA minimum and because of international regulations, only United States 2-year and 4-year college or university students are eligible to apply.  The next application period starts in January 2021
You must be at least a freshman in college to apply (successfully completed at least 1 quarter or semester before the scholarship is awarded). High school students or graduate students are not eligible. You also must be attending a US college or vocational or technical school.
CONGRATULATIONS to 2020 College Scholarship Winners!
CONGRATULATIONS to the 2018 WINNERS of the KARINA EIDE MEMORIAL SCHOLARSHIP!
To download this program in pdf: https://joom.ag/u94Y
If you would like to DONATE to this effort, click HERE.
The awards will consist of $2500 to college students at 2-year or 4-year colleges to assist in their college finances and encourage them in their future career goals. There is NO minimum GPA requirement.
No applications will be accepted after March 1st. Applicants must have demonstrated financial need, dyslexia documentation, short statement and resume, and at least one successful term at the college level. Dyslexic Advantage encourages prospective applicants to subscribe to the organization's free newsletter to keep up with scholarship announcements.
2017 KARINA EIDE COLLEGE SCHOLARSHIP WINNERS
Brynn, Benedictine College
Emily, University of Alabama at Birmingham
Erin, Bloomsburg University
Grace, Viterbo University
Jose, Texas State University
Katarina, Western Illinois University
Kayla, Coastal Carolina Community College
Matthew, Tulsa Community College
Meaghan, Trinity College
Olivia, Spartanburg Methodist College
Oscar, Oregon State University
Rhett, University of Alabama
Ryan, Embry-Riddle Aeronautical University
Taylor, Washington University St Louis
Whitney, Samford University
William, Virginia Tech
2016 KARINA EIDE COLLEGE SCHOLARSHIP WINNERS

Brian, Cornell University
Calvin, Troy University
Charles, SUNY HVCC & ACC
Christopher, Oregon State University
Christopher, Seattle University
Desiree, Auburn University
Drew, Chapman University
Ethan, Western Washington University
Heather, Tarleton State University
James, North Greenville University
Katie, Bethany College
Kayla, South New Hampshire University
Logan, University of Minnesota Duluth
Luis, St. Martin University
Ysela, California State University – East Bay