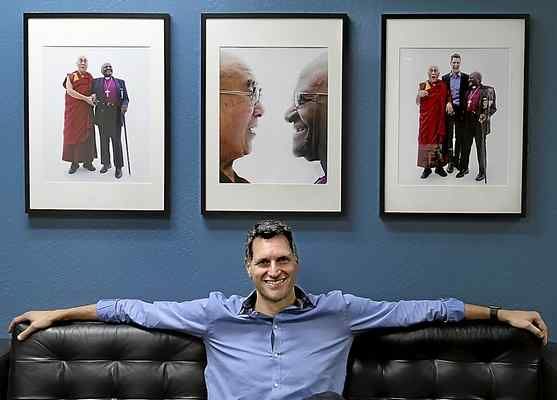 Why is this guy smiling?
This is author and publisher Douglas Abrams who has an instant New York Times Bestseller on his hands – The Book of Joy – but that's not all. He's also founded Idea Architects, a company helping "visionaries create a wiser, healthier, and more just world."
I had seen that Douglas had mentioned his Dyslexia in another interview, but wanted to know more. I had seen this pattern of IND strengths (from the dyslexic MIND strengths discussed in our book) but in different flavors – I for Interconnective Reasoning, N for Narrative Reasoning, and D for Dynamic Reasoning.
Doug has a very eclectic background, but he is where he is today because of a knack for recognizing opportunity, connecting people, asking good questions, and putting things together that haven't been put together before…talents that Brock and I have definitely seen before in many variations within this wonderful dyslexic community. Douglas grasps the big picture, for sure, but also the steps that can get them there.
Do yourself a favor, grab a cup of coffee and take some time to listen to my interview with Doug. He has a lot of great advice to share as well as answers to perplexing questions as – how could he possibly have the gutsiness to get himself hired as an editorial assistant if he couldn't remember how to spell here, and hear or there, their, and they're?
I liked hearing that he began thinking of himself as a writer after winning an a writing award when he was young (this is one of the reasons why we believe so much in our Young Writers Awards!) and how important it is developing a strategy for figuring out what you want to do in life (after college he started 'informational interviews' ala 'What Color is My Parachute.'