Margaret Rooke is the British author of Creative Successful Dyslexic and Dyslexia is My Superpower.
Her books can be purchased online HERE or HERE.
Margaret also wrote us , and shared the following from her personal journey with dyslexia:
"All parents are anxious about different aspects of their children's lives. I was as concerned as the next mother, but it never occurred to me that my daughter would have difficulties with her schoolwork. She achieved well until she was 11. I had no reason to think this would change.
It was when my daughter went to high school that she seemed to stop learning. Her scores for all her subjects came to a standstill. At home we had no idea why this had happened. Was it because she was generally unhappy? Was it a problem with the school? She claimed to us that the school was chaotic, yet other children had done well there. We were at a loss.
I was clearing out a box of papers when I came across a poster she'd made at 10 for her school's 'anti bullying week'. I noticed for the first time that the slogan on the poster 'Tell an adult' contained a mis-spelling. Adult had become adlut.
During her early years I thought spelling would come to her in time. She was one of those children who could learn their spellings for the Friday spelling tests, then forget them all instantly when the test was over.
Now I knew I was wrong. When I saw the poster my instincts told me she was dyslexic, and I organised tests that confirmed this. I couldn't have felt more shocked. I was deeply concerned too. I knew she'd always felt proud of her academic record and, after two or three years of not achieving at high school, I felt the years ahead would be a battle for her.
What happened next changed everything. I think it must have been the special needs teacher at school who recommended The Dyslexic Advantage to me.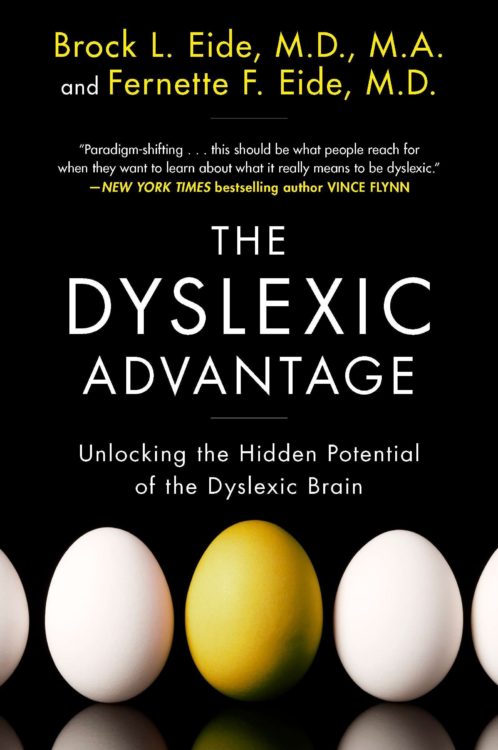 I flicked through the pages and, as I did this, my stress subsided, and my mind was at ease. When I read about the different ways that the dyslexic brain works and learnt there were other ways to be smart besides being 'school smart', I knew everything would be OK.
I reached the chapter on the M strengths and felt I didn't need to read any further. I thought this described my daughter and her abilities. The chapter enabled me to visualise how she could have a successful career – in interior design, for instance. No wonder she'd always seemed to have a natural ability for knowing where furniture should go, and which colours went together.
I also loved the way the Eides explored how dyslexic strengths could help those wanting to be truck drivers just as much as those hoping to be architects. There was no snobbery here. No need to excel in exams if this wasn't your thing. What mattered was acknowledging and exploring and focussing on your strengths, while doing your darndest to do well at school; not dwelling on the impossibility of taking in historical dates or chemical formulae.
I honestly think The Dyslexic Advantage made me a better mother. From that moment on I did all I could to encourage her, to give her a sense of confidence that didn't rely on how she was doing at school. The book meant I focused on my daughter's abilities, not her weaknesses. I supported her to build her confidence, build her resume and get through her exams at the highest grades she could manage.
As a writer I decided I could encourage her and those like her by writing books on the subject. My first was Creative, Successful, Dyslexic, a book of inspiring interviews with 23 high achievers, all talking about their life experiences, what went wrong for them and how they achieved so well. They talked about having a supportive adult while they were growing up and the difference this made, and how much they learnt outside the classroom.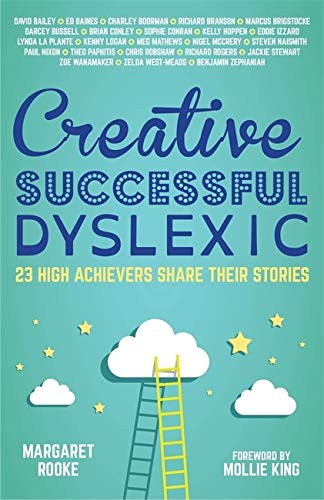 My second was Dyslexia is My Superpower (Most of the Time): interviews with 100 children and teens from across the world all talking about being dyslexic: how they feel about it, what helps them learn, relax, and feel good about themselves, and how parents and teachers can play their part. One of the most important aspects to this book is that it shows children they are part of a big gang all over the world. They are not alone.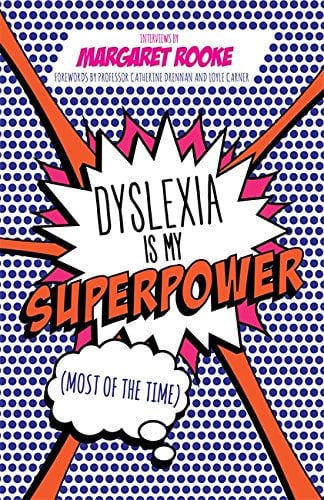 For the past five years I've been giving talks on what I've learnt from everyone I've spoken to. Of course in every talk I talk about my books and why I believe they can help children and adults with dyslexia. But I also talk about The Dyslexic Advantage, its role in my journey as a parent and how I believe its philosophy can change lives.
My daughter is now 23 and has a job with a fashion company she loves. In fact the skills she mainly uses in her work are not the M strengths I first identified in her.
She explained to me recently how she uses her problem-solving and communication abilities every day of her working life.
Another lesson for me that we never stop learning – all of us. Those of us with dyslexia and those who support them. "