Dyslexic Advantage Premium Magazine is a Monthly Magazine with exclusive articles, videos, and webinars providing inspirational stories, practical information, and tips for parents, teachers and tutors, and dyslexic adults. Premium Members can log in and read issues now HERE.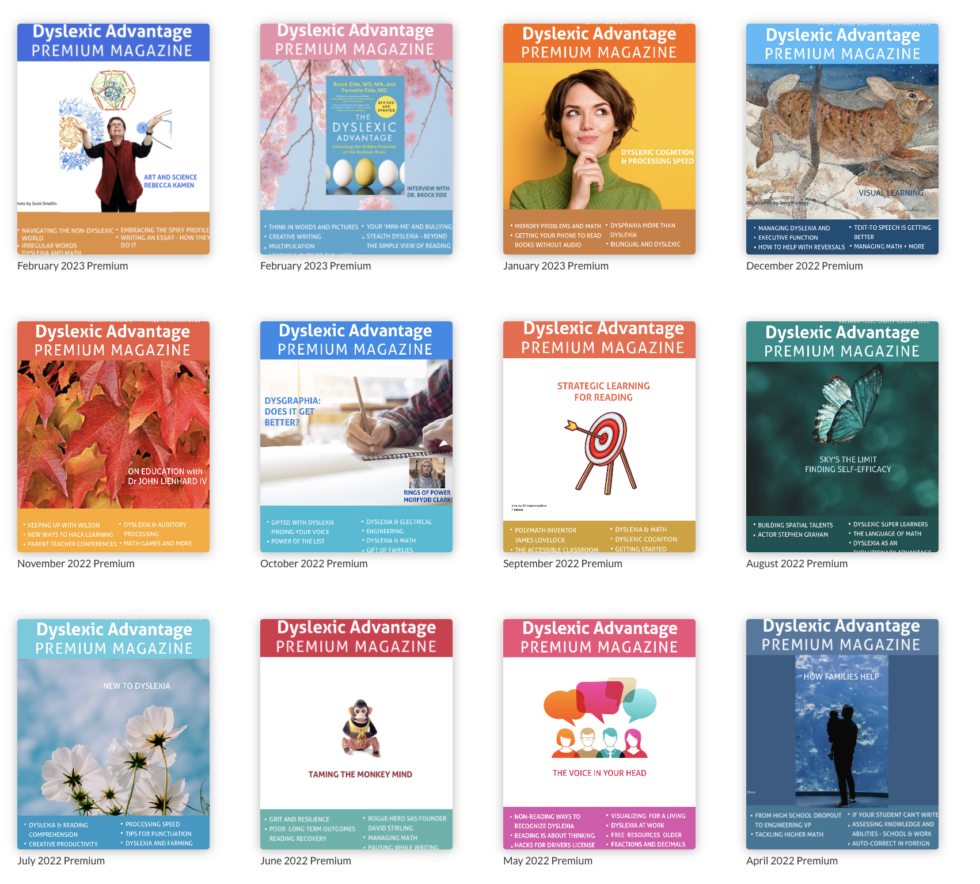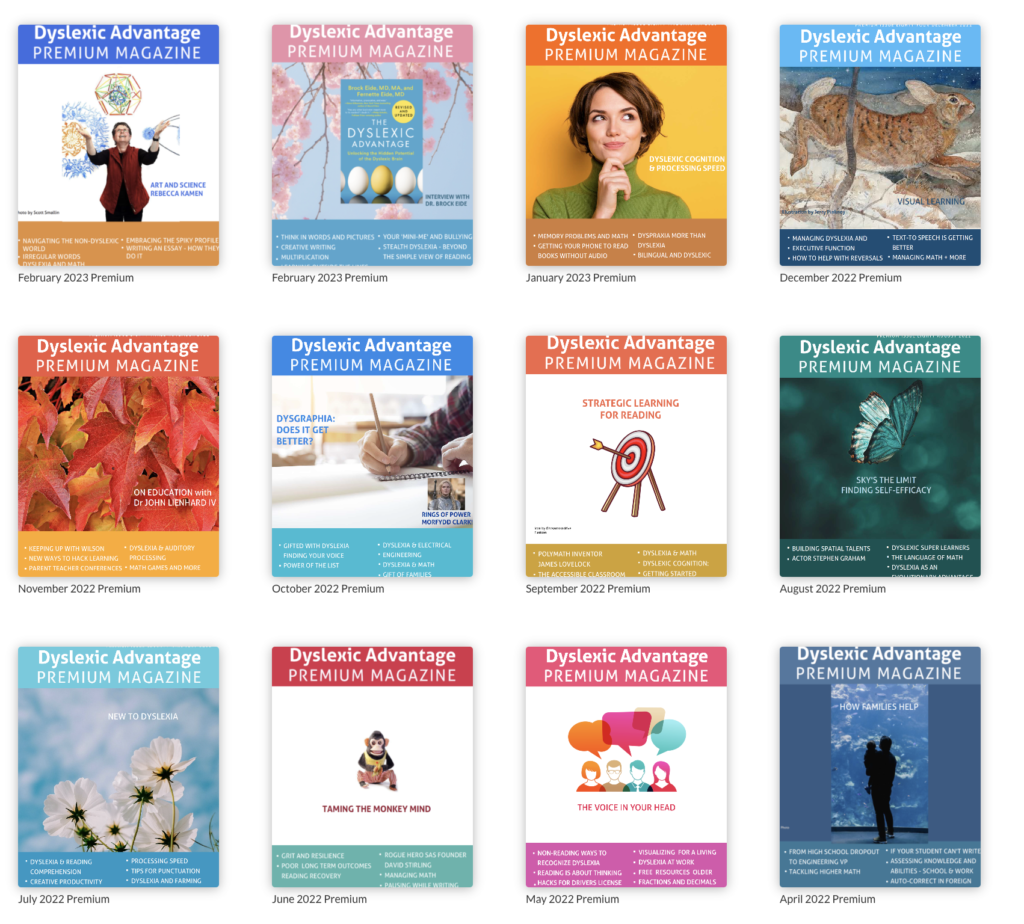 Subscribers have access to all previous issues of Dyslexic Advantage  Premium including exclusive webinars, interviews and Question and Answers.
Past magazines have included:
Gifted with Dysgraphia
Working Memory Hacks
Imposter Syndrome
New Dyslexia Gene and Auditory Processing
Top School Early Dyslexia Screeners
Tips for Teaching Math
How to Remember
Spelling Strategies
Dyslexia MIND – Wired for Innovation
"Smart" Executive Function
Exclusive Writing Webinar with Dr. Nicole Swedberg
Could Dyslexia and Dysgraphia Affect IQ?
Dyslexia and IQ: What Must You Know?
Writing Without Reversals
Multisensory Learning
Dyslexia and Math: Algebra
A School Psychologist Asks: How Do I Identify Dyslexia?
Gifted Dyslexics at School
Finding Life's Calling – Rebecca Kamen
Are Your a Visual Thinker?
From Lemonade Stand to CEO- Adam Kearney
Summer Ideas for Entrepreneur Kids
Boys vs. Girls – Why Boys are Falling Behind
How to Help Boys in the Classroom
Dyslexia and Foreign Language
Writing Tips for Kids Who Hate to Write
Are Standardized Tests making Kids Anxious?
Strategies to Reduce Anxiety in the Classroom
What Would You Do?  2nd Grader Dyslexia and Reading;
Word Learning, Boosting Vocabulary
How to Thrive – Developing Self-Efficacy
Music and Dyslexia
Dyslexia and Speech Difficulties
Dyslexia for Teachers in 5 Minutes (Video)
Latest Research Dyslexia, ADHD, and Giftedness
Modifying Tests for Dyslexics and ELL
What Works for Dyslexia and RTI
Doing Math: Inchworm vs. Grasshopper
Super Strategies: How to Help with Elaboration
Phonics and Auditory Processing
Research: Huh? Seeing But Not Hearing – Inattentional Deafness with Visual Overload
Talking to the College Board
What is Dyscalculia? Fast Facts
This is Your Brain on Phonics – fMRI and Dyslexia
The Truth About Multi-Tasking
AND MUCH MUCH MORE!