'Your book got my son reading!'
Dyslexic author and illustrator Liz Pichon got the idea to create her Tom Gates books after her son was also found to be dyslexic.
From Huffington Post,
"His diagnosis definitely played a part in remembering the kind of things both he and I loved when we were that age, struggling with words.
"I loved comics and books that were visual, books that you would open up and get to the story straight away.
"I also remember the books Zack was keen on like 'Captain Underpants' and more visual stories, so when I was writing them, I began remembering what he was like as a kid.
"He had enthusiasm, he jumped from subject to subject and that's what I based the character of Tom Gates on."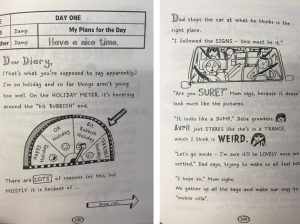 Most of the books allow kids to make their own doodles on pages. Click on the photos below to view them on Amazon.