Sabrina Brazzo, former Principal Dancer at La Scala has put her experiences with dyslexia on the stage in Milan in a show entitled, My Life as an Artist – Stories of Ordinary and Extraordinary Dyslexia.
In the show, the audience hears her parents hearing their worries that their toddler isn't talking, she doesn't follow instructions, and that she sometimes seems to be in her own little world.
The first dance shows Sabrina as a blindfolded swan. She is guided by the hand of another dancer (actually fellow dancer, husband, and choreographer Andrea Volpintesta) until the blindfold comes off and she flies on her own.
It's a beautiful, but poignant metaphor.
We couldn't find video of the performance on the web, but the show also only just opened.
The photo below shows a scene from the ballet where Sabrina is excluded from the academy. She eventually finds her way on her own and departs the crowd.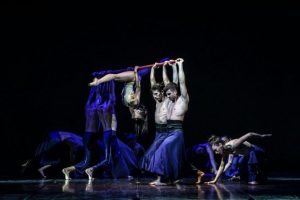 In a clever part of the ballet, a teacher ask Sabrina questions and she dances the answers. The ballet ends as she dances Swan Lake and helps out a young dyslexic child who is having trouble following verbal instructions in class. Sabrina has come full circle.
Congratulations Sabrina!
Thank you for such a creative expression of your journey with dyslexia!