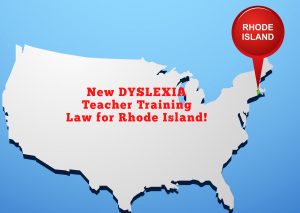 Congratulations Rhode Island!  Rhode Island Governor Gina Riamondo signed the state's first dyslexia teacher training law yesterday! From Providence Journal:
"Rhode Island joins the 15 other states that define dyslexia in state statute and the five states (emphasis, ours) that offer professional training to educators. Prior to the legislation, sponsored by Rep. O'Brien, D-North Providence, Rhode Island didn't have a standard policy offering guidance to school districts on how to address the needs of these children, nor was there any coordinated effort to train teachers in programs specific to students with this disability.
Arena, president of the Rhode Island chapter of Decoding Dyslexia, a national advocacy group, said the law will open the door for dyslexic children in the same way that earlier legislation enabled deaf and blind children to learn and grow."
This is breaking news. Please let us know if there are any updates or revisions.
The bill is located HERE.
The dyslexia provision:
"(6) Dyslexia-targeted assistance. The literacy program shall also include assistance to
students by providing strategies that formally address dyslexia, when appropriate. In addition, the
department of elementary and secondary education shall offer to school districts, at no cost to the
school district or to participants in the training, professional development services to enhance the
skills of elementary teachers in the use of evidence-based strategies to improve the literacy skills
of students with dyslexia.
(b) As used in this section, the term "dyslexia" means a specific and significant
mpairment in the development of reading, including, but not limited to, phonemic awareness,
phonics, fluency, vocabulary and comprehension that is not solely accounted for by intellectual
disability, sensory disability or impairment, or lack of appropriate instruction."
It's exciting the see the second generation bills going through state legislatures. First it was defining, then task forces, now universal screening and teacher training. Slower states can learn from the victories of these pacesetting states! Huge thanks for our community members, Decoding Dyslexia, Rep. O'Brien, and the many dyslexia organizations and non-profits and parents and teachers who are making this all possible!