Dyslexic Advantage Call for Research Subjects
and Research Accomplishments
Help the world better understand dyslexic minds!
ACTIVE RESEARCH OPPORTUNITIES: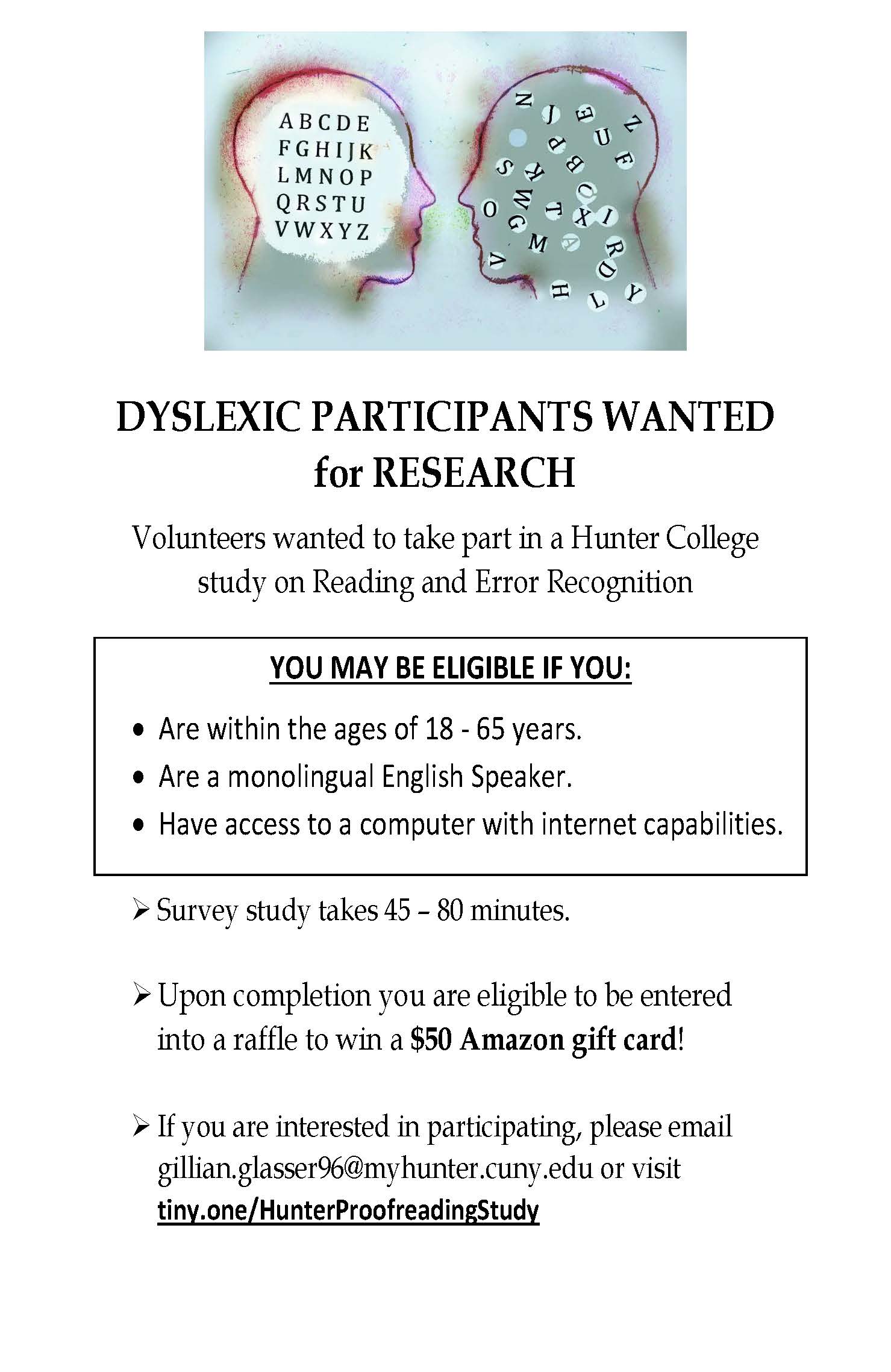 Hunter College, CUNY – contact Gillian
https://wwww.tiny.one/HunterProofreadingStudy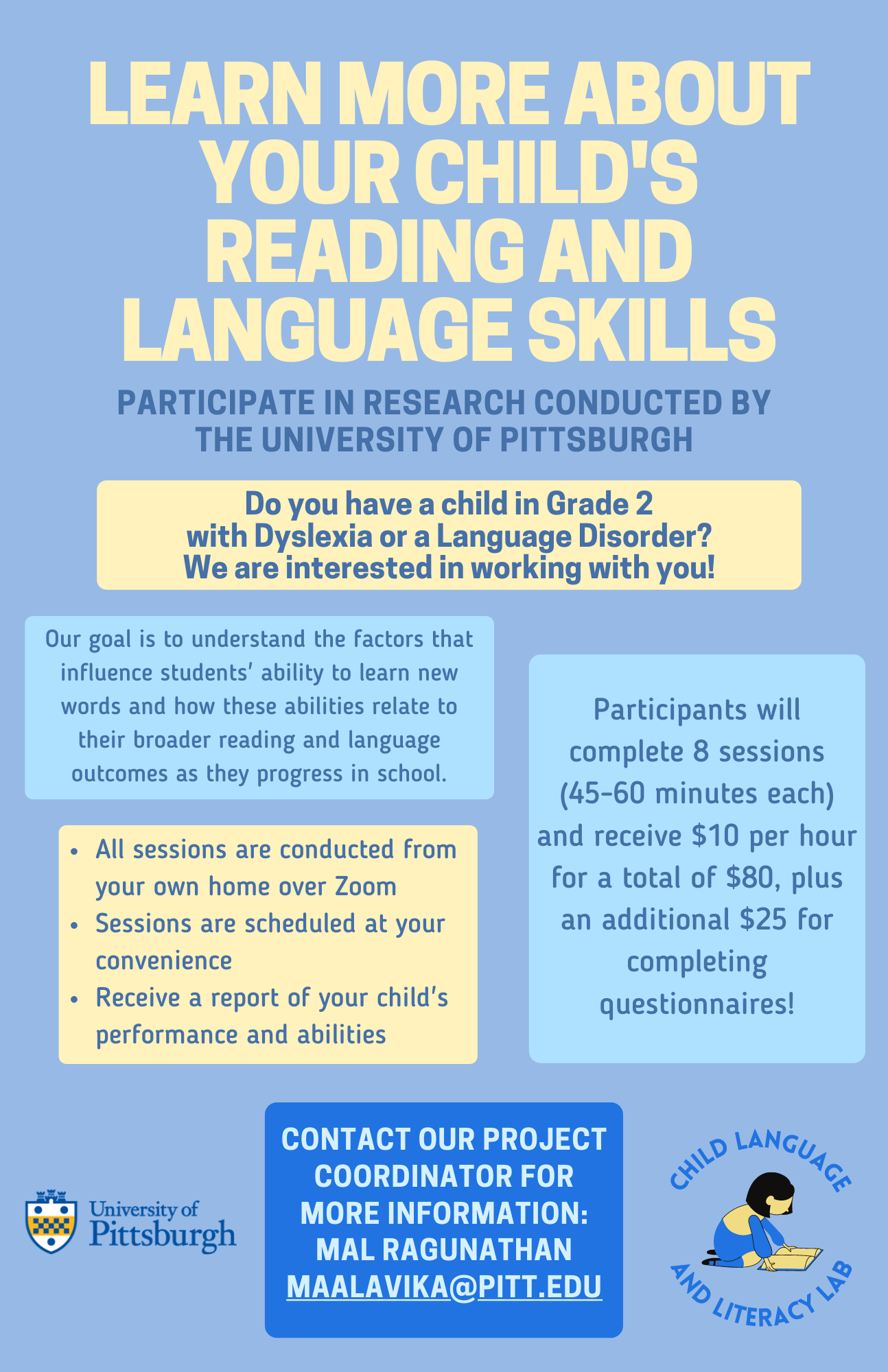 UNIVERSITY OF PITTSBURGH CALL FOR RESEARCH PARTICIPANTS
Posted Oct 6, 2021 (see flyer below)
Dyslexic Advantage works on many fronts to overcome obstacles and challenges that face dyslexic children and adults. DA's Dyslexia at School Survey, the largest of its kind in the United States, was used to support a new dyslexia law in California as well as in other states across the U.S. Dyslexic Advantage has been working with corporations and universities to increase awareness of dyslexia and its strengths among students, co-workers, and faculty, as well identify needs at awareness, policy, and tech levels to improve creative, work team, and hiring productivity.
✔ Dyslexic Strengths and Screening Research for Adults
✔ Dyslexia at School Survey – Survey of Public and Private School Parents Across the US
✔ Talks with Human Resources Leaders from companies such as Apple and Microsoft
✔ Dyslexia Focus Groups for Microsoft
✔ Dyslexia Focus Group for the Kindle Fire via Amazon.com
✔ Partnership with University College of London Professor Julie Logan for a Dyslexia at Work Research Study
✔ Contribute research subjects to dyslexia research at the City University of New York
✔ Dyslexia Scientists Drs. Fumiko Hoeft, Laurie Cutting, Matt Schneps, and Manuel Casanova present their work at the Dyslexic Advantage Conference on Dyslexia and Talent in Norwalk CT. Since then, both Drs. Cutting and Hoeft have been chosen as Norman Geschwind Memorial Lecturers by the International Dyslexia Association. NIH director Brett Miller gave a talk and participated at the meeting.
✔ Dyslexic Advantage and Scientific Experts talk to Alan Alda – Drs. Brock and Fernette Eide, Fumiko Hoeft, and Manuel Casanova speak to scientific host and actor Alan Alda about the dyslexic strengths, stealth dyslexia, and wiring for thinking advantages.
✔ Contribute research subjects to graduate research of Nick Wake of the University of South Hamptom. Nick was studying dyslexic corporate entrepreneur behavior.
✔ Contribution to the dyslexia design research of Andrew Zusman. Andrew was going to present user data and optimization for dyslexic users to a conference of 500 web designers
✔ Scientific American publishes The Advantages of Dyslexia by Dr Matt Schneps, a presenter at both our Conference on Dyslexia and Talent (2013) and Conference on Dyslexia and Innovation (2014).
✔ Dyslexic Advantage-UCSF Dyslexia Beyond Reading Conference – researchers, dyslexia professionals, and dyslexic individuals came together in an event that included Drs. Fernette and Brock Eide, Dr. Itiel Dror, Dr. Fumiko Hoeft, Dr. Laurie Cutting, Dr. Matt Schneps, Dr. Rod Nicolson, Dr. Jonathan Schooler, Dr. Ken Pugh, Dr. Mark Beeman, and Dr. Maryann Wolf. The goals of these conferences are multiple – to stimulate top tier research into dyslexia-based brain differences, to confirm the scientific basis of dyslexic strengths, to provide researchers with greater context for dyslexic brain differences, and to acquaint the general public, educators, and dyslexic individuals with the importance of basic dyslexia research.