Numbers are starting to trickle in from February testing and the good news is that things are beginning to recover, but younger grades are behind more than older children.
The numbers below are all students, without dyslexic students studied separately, but if your kids are on the Amplify curriculum, expect that about 1/3 of the class will be identified as needing "intensive intervention." Analysis by race and ethnicity suggest even higher rates of students needing intensive intervention (for instance in the 1st grade, 48% of black students and 43% of hispanic students).
Now, students themselves are also recovering from pandemic disruptions, and the numbers this year are better than the year before, so that is clearly an encouraging sign.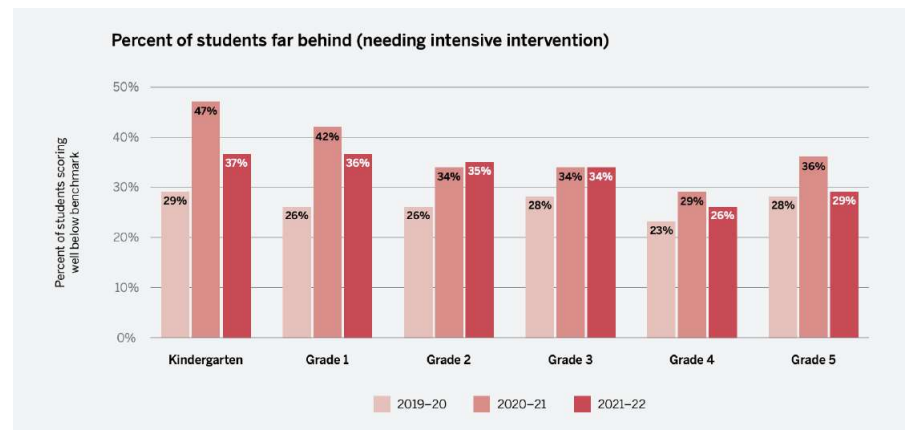 Because dyslexia remediation is so dependent on multisensory learning, having to learn with masks on or having the teacher or tutors wearing masks definitely made it more difficult (if not impossible in some cases) for accurately hearing and getting feedback for pronunciation.
As spring is now here and the school year winding down, the main take-home points should be that there will be many students in the same boat if your students are struggling with pandemic reading loss. Teachers are trying to make up for losses too, but you can continue to regularly read with your student (or read along with audiobooks) and continually to give positive feedback and corrections at home.
With the increased needs in the classroom – there may be more attention to reading (which is a good thing), but also larger pull-out groups and more assignments to computer work whether or not that is the best way your child learns.
For some students, it's very important that they learn with minimal background noise and with a teacher or para-educator with clear pronunciation and explicit feedback. If parents are dyslexic themselves, they may feel less confidence reading with their children (many do so anyway) – but offloading the reading to a professional audiobook reader is also fine…if you can get into the practice of listening along with reading, that can be better than listening alone – because students will see much more print that way and get the auditory feedback of words as well as visual practice of regularly moving across a page.
Students who have frequent line skips, should read along with their finger or cover the page below with a card. Adjust the speed of the audiobook. This can be done with almost every app – Overdrive from books from the library, Audible, but also operating system text-to-speech systems for Apple, Google, and Microsoft.