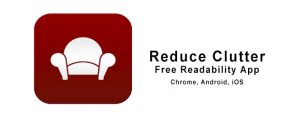 To read articles on the web with less visual distraction, try the free Readability extension for
the Google Chrome browser (also free). There are also Android, iPhone, and iPad versions.
Readability is a web and mobile app that reduces distraction while reading on the internet.
It also has Read Now, Read Later, and Send to Kindle functions.