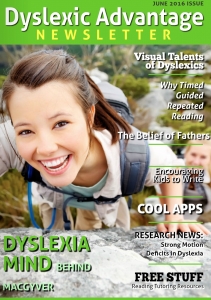 Check out our latest Dyslexic Advantage Magazine:
Highlights include Fathers, Visual Storyboarding with Film Director Scorsese, Visual Talent of Dyslexics, Math Insights, Encouraging Writing, Latest Research and News, and Free Resources for parents, teachers, and tutors.
We'll attach the pdf file below, but because the digital magazine is interactive, it's easier to watch with all the videos and audio using the viewer.
Thanks for your support of Dyslexic Advantage!
June-DA

Download HERE.