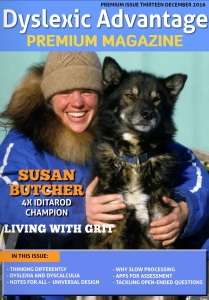 It's out!  Latest Issue - Thinking Differently - Discussion of New Research from MIT re: Dyslexia, Dyslexic Innovator Behind SWATCH, Susan Butcher, 4x Iditarod Champion, Math: Showing Not Saying, Latest Research About Dyslexia and Adaptation - Repetition as a Poor Way to Teach Dyslexics, Dyscalculia & Dyslexia, Why Slow Processing, How to Teach Writing to Open-Ended Prompts, Apps for Writing, Speech, Phonology, and Assessment, Notes for All.

[it-exchange-member-content membership_ids="5253,1879,1870″]
Issue 13   – December 31st, 2016.  Click HERE.
Password: newyearpremium

[/it-exchange-member-content]