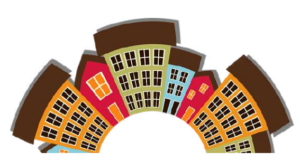 The Boston Globe recently published an article saying that COVID-19 has been a wrecking ball for students struggling to read:
"Instead of reading, we got websites and circle time."
"Daniel's progress came to an abrupt halt after Medford Schools closed down in mid-March in response to the spread of COVID-19. The tutoring came to an end. The intensive, small group classes in reading disappeared, as did all meaningful instruction, from what Ronayne could tell. Daniel, who is being referred to by his middle name to protect his privacy, did meet online with his teacher and classmates about twice a week starting in April, his mother says. But it was always an informal meeting focused on weekend activities and other nonacademic concerns… As Daniel regressed in his hard-won reading abilities, his mother steeled herself for her next big fight with the district: Getting her son compensatory education services to make up for months of lost time.
During the spring, she had Daniel read aloud to her. "He was literally tripping over every word. I was like, "What just happened here?"
The blame is shared by all levels of government, yet many school districts should have done better. Too few forged creative partnerships to offer low- or no-cost virtual reading support for families. Kids who struggle with reading "need more instructional time and the instructional time looks a very specific way," Jones says.
Were your students caught in the pandemic wrecking ball? Are they struggling with sounding out words, but haven't yet formally been identified or received specific help? It is possible to work with your children to make sure that they don't lose ground and in fact progress in their reading.
The gold standard for teaching dyslexic students to become fluent readers is "structured literacy." We've spoken about structured literacy before, but briefly it's a systematic program of explicit instruction that incorporates listening, speaking, reading, and writing in its teaching about the structure of language. It's not the same as "guess and go" strategies; instead it trains students to become experts at understanding the sounds and letter parts that make up words and it incorporates multiple senses, for example, movements, touch, speaking and visual features like color, shapes, or pictures.
STRUCTURED LITERACY / DYSLEXIA TUTORS CAN TUTOR REMOTELY
With the pandemic, many structured literacy tutors have made the transition to teaching remotely; others may conduct distanced tutoring.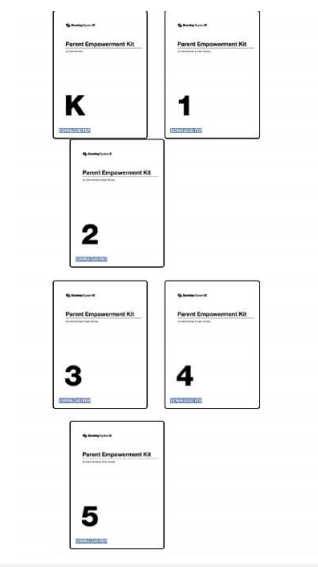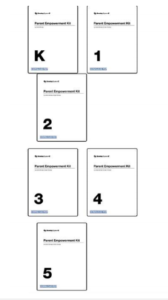 Can you tutor your children yourself? Absolutely! Some curricula may be more parent-friendly than others. Fortunately, because of the pandemic, many companies are offering free resources online so that you can try out a few lessons with your student and see if the system is a good fit.
It's very important that the sounds are learned accurately when teaching your student.
Sonday has downloadable audio files at the link at right.
All About Learning also has a great free phonogram app available on all platforms at the link below.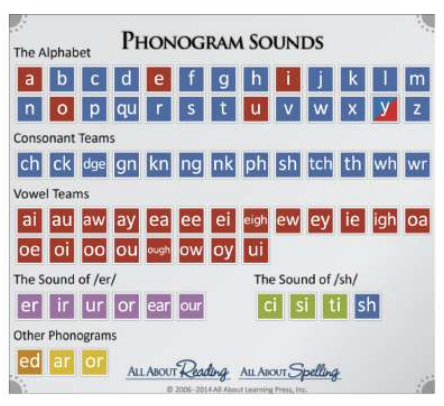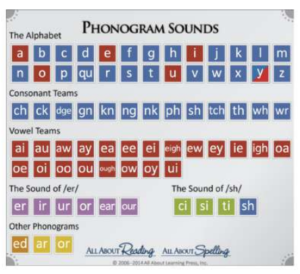 Here is an introductory video that shows some examples of the how multisensory strategies are incorporated in the teaching of reading. Many students have have subtle mispronunciations or trouble processing all the sounds within words so tapping, clapping, or pounding out the sound parts reinforce the breakdown of words into different sounds.
Tutors can be helpful if they employ a variety of curricula or can troubleshoot if a student is having difficulty learning or remembering certain sounds.
Most curriculum providers have tests to determine appropriate levels and exchange policies if one purchased isn't a good match.
With the pandemic, there are also many teacher, tutor, or homeschooling video posts on YouTube which demonstrate lessons or walk-throughs that can give you other previews of what is involved with the instruction. Good curricula also have phone support if you have questions.
Lessons are often short (10-15 minutes) with step-by-step instructions in homeschooling teacher manual. The instruction does not have to be perfect; you can teacher your child. There is no reason why reading instruction should come to a standstill. Whether you're able to help a little or help a lot, it will help your student or students!
For older students who are decoding simple words, but need more advanced work in be able to read conceptual level texts, remote tutoring as mentioned, or online structured literacy programs (Lexia Learning, Language! Live) may help students to avoid losing ground while school programs are disrupted. Most online programs have free trials to see if they might work with your student. Even students have mastered single word decoding of common words, addition targeted education will allow them to acquire the tools necessary to decode longer and more complex words they have never seen before, and read and write more fluently. Higher level work in structured literacy also helps with spelling. If online programs are a good fit for your student, you can also sometimes find used workbooks in programs like Language!Live or REWARDS in the Amazon Marketplace or Homeschool Curriculum swap boards. Teachers manuals will have answers as well as additional instructions regarding how to present lessons.
If some of the tools or interventions didn't "take" when a student was younger, they may be more effective when a student is older. Students have a better understanding of language and larger working memory abilities – so that more things become possible. It would be a mistake to not take time to "retry". Many students are pleasantly surprised how easier challenging tasks are when they are older.
If you decide to focus on reading, writing, and spelling skills during this pandemic era, this may be a good time. Don't forget that we have a whole library of online articles in our Dyslexia Library, Premium Magazine for in-depth articles and videos for instruction, and Home Tutoring centers and private schools for dyslexia may also offer remote tutoring online regardless of location.
If you are using tutors, we recommend using experienced dyslexia tutors who use structured literacy curricula if possible, rather than other general how to read curricula. The demands are much greater with structured literacy, but if students are able to get through it, they are more likely to become fluent readers and writing (with better spelling too) later in life.
If you are dyslexic yourself and feel that you can't be a teacher to your student, reach out to extended family members and friends. You may be surprised how much people may want to help – and they can help direct lessons via Zoom.
In every community, there are also likely volunteers who may be able to help. Although most organizations are switched to tutoring remotely, this can also be an upside until this pandemic has gone away. Many of these tutors don't use structured literacy programs, but they can still help.
Some people are surprised to learn that many public libraries and community colleges have free reading tutors for adults and sometimes children. Reach out by phone or email addresses posted on website. These tutoring programs may be listed as "literacy" programs. Some older siblings of your children's friends may even be willing to help tutor. Some public schools keep lists of local tutors and there are many online services that offer remote tutors if you search online.
Across the US, there are sites like Children's Dyslexia Centers run by Scottish Rite. Free tutoring may also be found through Boy's and Girls' Clubs and some YMCA's. Student teachers-in-training may also be available to tutor from nearby colleges and universities.
If you are looking for free tutoring for an adult, check out the search function at the National Literacy Directory HERE.
If you opt for paid tutors and you itemize your taxes, it's possible to deduct expenses for dyslexia tutoring special education (learn more HERE). As always, check with your accountant to see if you might qualify. Some parents may also be eligible for tutoring assistance if they enroll in a remote education program through their school district or perhaps apply for reimbursement. The latter may be quite difficult obtain, but we have known families who have been successful when a failure of a school has been documented through student testing that shows failure to progress. Students may also qualify if they attend a Title I school that has failed to show "Adequate Year Progress" for two or more years and they qualify for free or reduced lunch programs (read more HERE).
Some tutors may also be able to offer a sliding scale (reduced rates) if you tell them that you would like to use their services, but can't afford them.