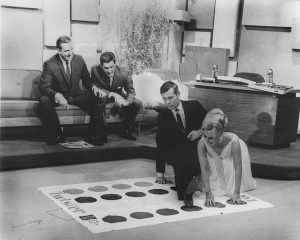 Happy Anniversary Reyn Guyer! It was 50 years ago today that Johnny Carson played Reyn's game Twister with Eva Gabor on the Tonight Show, and he was launched into Toy Creation History.
Reyn, who is dyslexic, also invented the Nerf ball and was inducted into the toy and game inventors' Hall of Fame in 1986.
After the success of Twister, Reyn, and his family wanted to give back to the dyslexic community, so they created Winsor Learning, which enables "anyone" to teacher students reading with the Orton-Gillingham method. Today over 40,000 educators use the Sonday system in public schools.
N.B. Recently, we had the pleasure of meeting Winsor's CEO Tom Guyer at our conference in Connecticut. We are indebted to Winsor Learning for helping sponsor our Dyslexic Advantage newsletter, a free resource for parents, teachers, professionals, and students all over the world.
Go Guyers!
Dyslexic Inventors often have all 4 MIND Strengths – M-Strengths (spatial, design), I-Strengths (visualizing a game from different perspectives), N-Strengths (telling a good story), D-Strengths (imagining and simulating dynamic play).