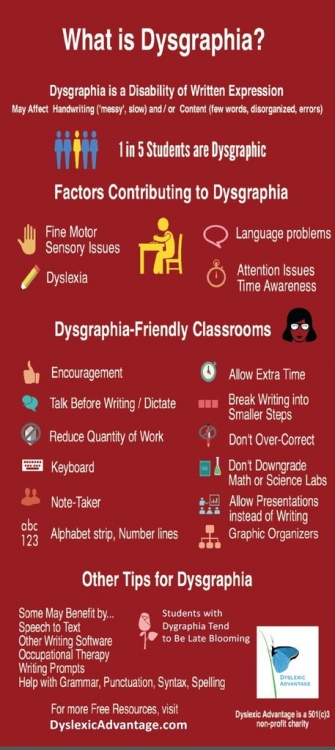 Download our What is Dysgraphia Card for Teachers now! It's available in our store  HERE.
Dysgraphia is a disability of written expression is one of the most common LDs and reasons for student underachievement, yet far too few parents, students, or teachers are aware of how it can impact on standardized testing or general school performance. Many factors can contribute to dysgraphia, but among the most common, fine motor impairment / sensory issue, dyslexia, language difficulties, and attention and time awareness. It is important to detect and be aware of, because without appropriate dysgraphia-friendly environments, children can be burdened with impossible work expectations, fail subjects or whole grades, and suffer great personal hardships.
For dyslexic students, it is not uncommon for students to have more problems with dysgraphia than with reading as they progress in school and college.
This card can be especially helpful for students because even if dysgraphia is recognized by some teachers, many may not be aware that writing lab observations for science classes or working problems in math may be impossible or very difficult for many dysgraphic students without appropriate accommodations.