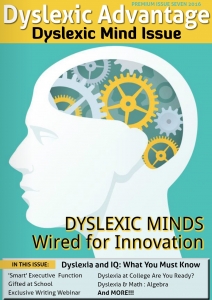 It's HERE!
The Dyslexic MIND Issue has exclusive articles, videos, and a webinar this month for Premium Members. Not a member? Go HERE.
TABLE OF CONTENTS
Dyslexic MINDS Wired for Innovation
Exclusive Webinar – Unleash Writing with Dr. Nicole Swedberg
Ocean Explorer Robert Ballard
Dyslexia and IQ – What You Need to Know
Executive Function
Dyslexia and College Videos
Could Dyslexia and Dysgraphia Affect IQ?
Dyslexia andMultisensory Learning
Cool Apps
Visual Algebra
Q & A: School Psychologist Asks: How Do I Identify Dyslexia?
Learning Writing Without Reversals
Gifted Kids Fly at School.
Premium Subscribers, you must be logged in to read below. If you have any trouble logging on, contact us at: team"at"dyslexicadvantage.org