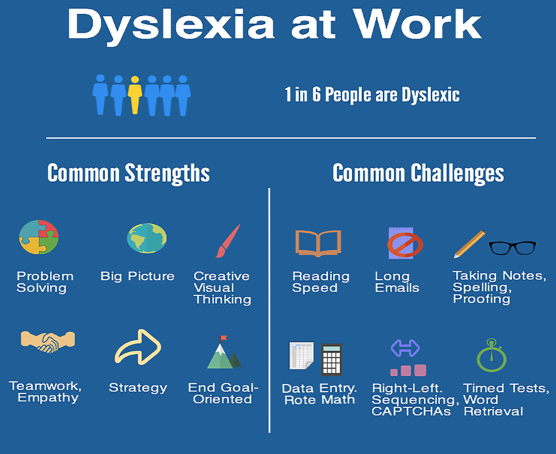 What does it take to have a dyslexia-friendly workplace? Check out our infographic and video from our Conference at Microsoft.
The card covers common strengths and challenges as well as considerations in the workplace (no hot desking, quiet workspaces, available assistive technology) that can help dyslexic employees do their work efficiently.
Strengths are important to be included on a basic information card like this because many managers or supervisors may not be aware of the big picture, visual thinking, or other strengths their dyslexic employees have.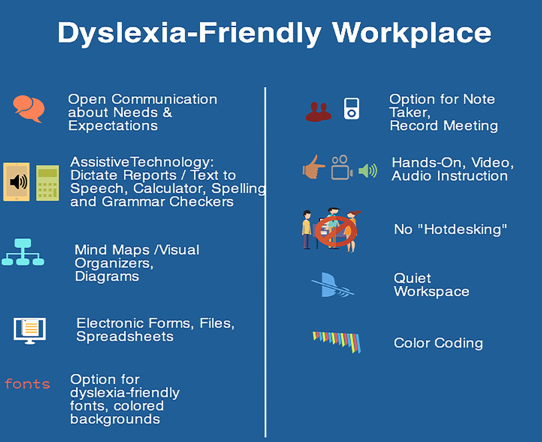 Posters or cards that can be shared with co-workers, managers, or HR can be purchased HERE. Based on our latest set of interviews, we were also struck by how little corporations had considered the impact of certain rights management practices (for confidential information) on their dyslexic workers. Most of the people we talked to had to contact the tech department themselves to obtain different formats of material or to get permission to print a single copy.
What strengths have you recognized in the workplace?  What are workplace practices that have worked or haven't worked?  We'll be recording our talks and will share them for those of you who can't make the event (yay). Thanks again to Stu Shader of Microsoft for helping make this event a reality!  (clap clap clap).
For another workplace blog post, check out Disclosure: Who Do You Tell and How Did You Do It? . We also have tons of great audio interviews that will continue our Dyslexia in the Workplace series – if some of you would be happy to volunteer to help us edit audio, please contact Fernette at dyslexicadvantage "at" gmail.com  No experience is necessary, we can teach you how to edit audio on Audacity.  Thanks!