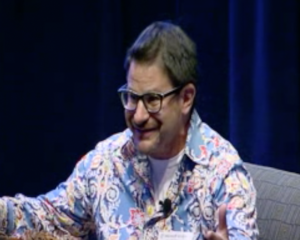 MUST Watch dyslexia stories from brilliant storyteller and Top Silicon Valley VC David Hornik (give this man a talk show) shares his personal story of being dyslexic, 'ungifted', wending his way through Stanford creating his major, surviving an early law job to read everything that had ever been legally about Ticketmaster, to a triumph using dyslexic thinking.
Parental warning: mild language.
"Turns out our elementary school had a gifted program…promptly they put my older sister and my younger brother in the gifted program. 'Hey, congratulations, you're gifted!'…my mother being a wonderful amazing mother, but a kind of classic Jewish mother, said, 'What about this one?…What's so ungifted about this one?" So she makes me march to the principal's office…to which the principal said, 'You have another child?' Which seems unbelievable to me that they might not have noticed me. They might have deemed me ungifted – I'm fine with that, but not notice me?" – David Hornik,
AB Stanford, JD Harvard Law, Founder of The Lobby (thought leaders technology), writer of Venture Blog, one of the earliest Venture Capital Blogs, early investor, Board member of companies such as Evite, Gravity, Blippy, Callisto, DataTorrent, TownSquared, Ebates, Bill.com, Splunk, Stumbleupon, RocketLawyer, and more.