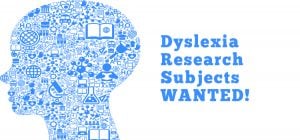 Please contact the Dyslexic Advantage Team (team "at" dyslexicadvantage.org) if you would like to post your research opportunity. To see more detailed flyers, view below most recent listings. If any of the studies below are closed, please let us know. Thank you!
New as of
DECEMBER 2017: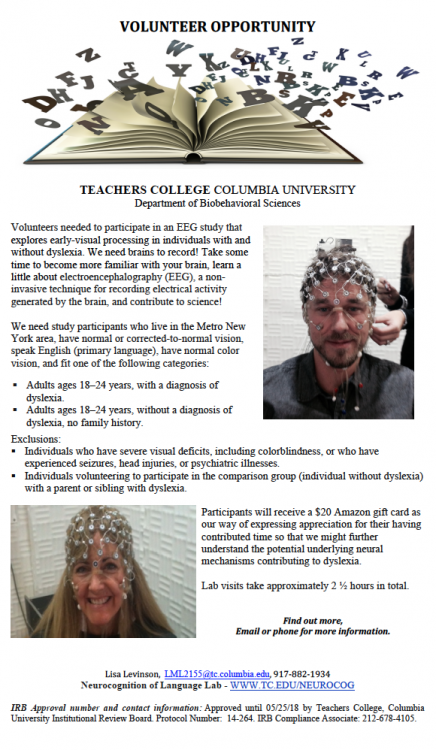 From PhD student Lisa Levinson: Volunteers needed to participate in an EEG study that explores early-visual processing in individuals with and without dyslexia. We need brains to record! Take some time to become more familiar with your brain, learn a little about electroencephalography (EEG), a non-invasive technique for recording electrical activity generated by the brain, and contribute to science!
We need study participants who live in the Metro New York area, have normal or corrected-to-normal vision, speak English (primary language), have normal color vision, and fit one of the following categories:
Adults ages 18–24 years, with a diagnosis of dyslexia.
Adults ages 18–24 years, without a diagnosis of dyslexia, no family history.
Exclusions:
Individuals who have severe visual deficits, including colorblindness, or who have experienced seizures, head injuries, or psychiatric illnesses.
Individuals volunteering to participate in the comparison group (individual without dyslexia) with a parent or sibling with dyslexia.
Participants will receive a $20 Amazon gift card as our way of expressing appreciation for their having contributed time so that we might further understand the potential underlying neural mechanisms contributing to dyslexia.
Lab visits take approximately 2 ½ hours in total.
Lisa Levinson,  [email protected], 917-882-1934
Neurocognition of Language Lab – WWW.TC.EDU/NEUROCOG
PDF of Research Flyer HERE.
April 2017
Northwestern University – Auditory Processing Study with Dyslexic Subjects & Non-Dyslexics.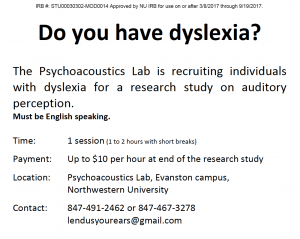 $10 per hour on the Evanston Northwestern campus.
Phone: 847-491-2462 or 847-467-3278.
University of Washington Summer Reading Study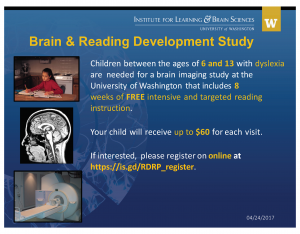 Jason and Patrick have announced round 2 of their summer research study!
"Researchers at UW are looking for child participants for their brain imaging studies on how the brain learns to read! This summer they are running a FREE summer reading program for those who qualify! Check out their website at brainandeducation.com to learn more about the lab and register to be a participant here: http://bit.ly/uw-res
March 2017:
Infants and Dyslexia Study  Nadine Gaab's lab Boston Children's Hospital Family history of dyslexia. Monetary reimbursement is available.
Jan 2017: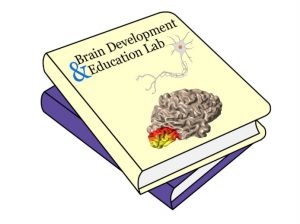 Dyslexic Children 6-13 yo needed for a study that includes 8 weeks of FREE intensive and targeted reading intervention. Your child could ear up to $320 for participating. Contact [email protected] or phone: 206-685-9365.
Typically reading children for a study on dyslexia. Multiple brain images will be collected over several sessions using MRI and MEG. All visits will be at the University of Washington's Seattle campus. Your child could earn up to $320 for participating. Contact [email protected] or phone: 206-685-9365.
——
University of Washington: Brain and Reading Development
Dr. Jason Yeatman contact Dyslexic Advantage to let our members know about a new study for adults and teens with reading challenges. The study will involve multiple visits for behavioral testing with potential opportunities for brain measurements in the future. Individuals will receive up to $60 per visit. If interested, call 206-685-9365 or email: [email protected]
University of Kansas School of Business – Penn State: Dyslexia at Work
A member of our Dyslexic Advantage community, Dr. Niki den Nieuweboer is leading a research study to examine both challenges and opportunities in the workforce. Begin the process HERE. An interview (1 hr, phone) will follow.
UCSF: Social and Emotional Measure
Another member of our community, Dr. Fumiko Hoeft of the University of California-San Francisco is requesting volunteers from the community to complete a 10 minute survey online about dyslexia. All responses are anonymous.
Take the quick survey HERE.
New York City Metro Area: Columbia University Teachers College
Kids with and without dyslexia – ages 9-10.
Adults with and without dyslexia – age 18-25.
$20 Amazon card compensation. EEG study. Contact Lisa Levinson. email: lml2155 "at" tc.columbia.edu or 917-882-1934
Online – Current Dyslexic College or Grad Students
Elizabeth Geiger  Experiences of Students with LDs.
Click HERE. Volunteer, no compensation. Any questions? email: efg2116 "at" tc.columbia.edu
Seattle Area  
Kids with Dyslexia Kids between the age of 6 and 13. Brain imaging study. $60 per vision. 8 weeks free reading intervention.  Email: brainlab "at" u.washington.edu.  Phone: 206-685-9365.
Adults with Dyslexia  – Right-handed, age 18-45 years old. Brain imaging study. Up to $190 reimbursement. email: kuhllab "at" u.washington.edu or phone: 206-616-6221.
---
UW-Research-Aug-2016

DA-ad-subitted-to-IRB-FINAL

Geiger-Research