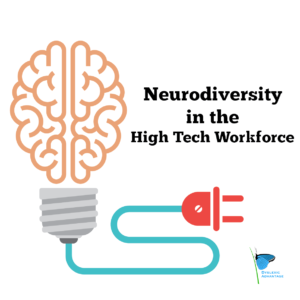 "I am here to start the discussion and effect change so that the future generations can and will have a better experience and not be held back…" – Stu Shader, Global Collaboration Specialist, Microsoft
Bravo to Microsoft's Stu Shader for helping make the Neurodiversity in the High Tech Workforce Conference at Microsoft's Silicon Valley Conference a reality.
Elite recruiters, managers, and change makers from organizations such as Google, Apple, Hewlett Packard, Oracle, Intel, Dell, Bloomberg, Salesforce, Stanford, UC Berkeley, and other organizations and colleges attended. The event hit the limit at registration.
An excerpt from Stu's wonderful talk: "My story: Typical for Dyslexics – School was a impossible and I barely graduated from high school. Never went to a full time college. I started in the mailroom at Arthur Andersen. I was always hanging around with the Telecom and IT departments. I moved into IT and started helping accountants learn how to use their computers.
That experience led me into the training business – loved the fact that I could figure out how to break something down for people – give them the gist. That is a very typical characteristic of a dyslexic. That led to a sales and business dev career for companies such as Apple, Documentum, Hyperion, PeopleSoft, and Microsoft…"
We will be posting these videos formally over the next few days, but if you can't wait!  Please like, share, and help us change the world.
Dr Brock Eide – Cognitive Diversity in the High Tech Workforce
Dr Fernette Eide – Interviews about Dyslexia and Neurodiversity – High Tech Corporations
NEA Venture Capitalist Scott Sandell on Dyslexia, Microsoft, Innovation, and Diverse Teams
Venture Capitalist David Hornik on Dyslexia, His Mother, and Dyslexic Innovation
Dyslexia Neurodiversity Panel with Stanford Office of Accessibility Dr. Joan Bisagno, Stanford Lecturer (HP Peoplesoft) David Obershaw, Serial Entrepreneur (X2Engine, Sugar CRM) John Roberts
Thanks also to Laura Shumaker for talking to us (Fernette and Brock) and writing The Value of Cognitive Diversity in the Workplace for SFGate.