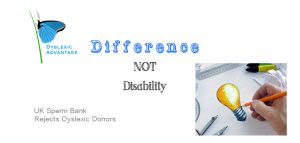 So the London Sperm Bank would reject individuals such as Richard Branson and Steven Spielberg?
Dyslexia discrimination and ignorant eugenicists reared their ugly heads today as a leading UK sperm bank was thrust in the spotlight for its policy of rejecting donors with dyslexia.
From The Guardian: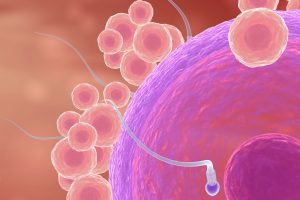 "In a practice branded "eugenics" by campaigners and a would-be donor, theLondon Sperm Bank has banned men with dyslexia or other common conditions it described as "neurological diseases" from donating.
A leaflet to donors lists a series of conditions the clinic screens for, including: attention deficit disorder (ADD), attention deficit hyperactivity disorder [ADHD], autism, Asperger syndrome, dyslexia and the motor disorder dyspraxia….
The intervention highlights a debate among experts about whether dyslexia, which affects up to 10% of the population, should be regarded as a disability.
Some even see dyslexia as an advantage because of the mental attributes often associated with the condition, such as lateral thinking, spatial reasoning and pattern recognition.
Prominent dyslexics have described their condition as a gift, citing the high proportion of dyslexic artists, entrepreneurs and entertainers including Sir Richard Branson, Steve Jobs, Ruby Wax and Benjamin Zephaniah.
Fred Fisher, a 30-year-old dyslexic Oxford graduate, was told of the London Sperm Bank ban when he approached the clinic in November. "I was really taken aback to see dyslexia listed as a neurological disease," he said. "I'd never thought they would turn people way for having dyslexia, especially given how important we are told science and entrepreneurship are these days."
Fisher, who is a software engineer based in London, said: "I told them this was eugenics, but it's not even good eugenics. Would they turn away Richard Branson or Albert Einstein? We need innovative people who think differently in the world. Dyslexic people make a great contribution to our society."
The hidden or not-so-hidden face of discrimination continues to work against making Dyslexia more visible and recognized in its positive light. Ignorance and prejudice are more widespread than most realize. It's stories and policies like these that also exposes the mistake of labeling dyslexia as a disease rather than cognitive difference.
As we look back at 2015 and into the New Year, we want to thank all the individuals who have helped us work to break the ignorant stigma cycle, opening the eyes of children and adults to the positive reality of what being dyslexic is all about. There's a lot of work to be done and we need your help.