On Dyslexia and Writing Books: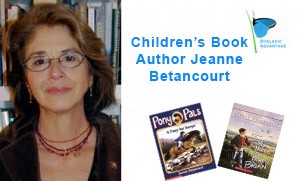 "I believe that being dyslexic has helped me as a writer. Since learning to read and write was difficult for me growing up, I paid more attention to the world around me."- Jeanne Betancourt, author of over 70 children's books (Pony Pals series, My Name is Brain Brian), TV writer for ABC Afterschool Specials, Film Studies teacher and more.
Recently, I had a chance to talk to Jeanne Betancourt, one of our favorite authors for children's books. I remembered that Jeanne's books seemed to perfectly capture the time of the tween years. I had read many of the Pony Pals series with my daughter – and it was there that I discovered her character of Anna (books #2 and #28) who is dyslexic and talented as an artist.
After talking to Jeanne, I learned a lot that I hadn't known – that Jeanne really began writing as an adult in her 30's, and that her greatest motivation to write was to reach children and help them if they were facing significant life challenges.
It made me think that there are probably a lot of gifted writers with dyslexia out there who may not realize that they may be might be talented writers. Some people are drawn directly to teaching or counseling, but for others the pace of being able to think about situations and conversations – makes writing a perfect way to help.
Premium Subscribers, listen to more of my interview with Jeanne below.
Not a Premium member? Join HERE for just $5 a month and get gain access to exclusive articles, videos, and more.