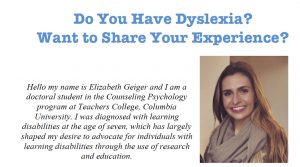 Are you a current college or graduate with dyslexia?  If so, Elizabeth Geiger, a PhD candidate in Counseling Psychology at Columbia University Teachers College would like you to take her survey. She's trying to identify and improve the status quo for students who learn differently in higher education.
Requirements: at least 18 years old, US residents, diagnosed with a learning disability / disabilities, currently enrolled in college or graduate school. https://tccolumbia.qualtrics.com/SE/?SID=SV_7afnM1XihoXF4PP
She thought the survey would take about 20 minutes to complete and it can be completed in parts and saved as a draft. Individuals with any questions can contact Elizabeth here: [email protected]
Many college and grad students with dyslexia face a difficult time, so we believe Elizabeth's research is important. She's hoping to get 70-80 more respondents for her work.
In the audio below, listen to a brief chat I had with Elizabeth yesterday. She shared how she discovered her strengths and interests in psychology a college and how a college professor had a tremendous positive and encouraging influence on her!