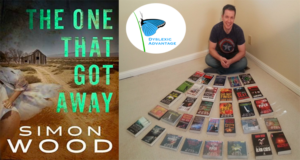 Imagine this. You're a student in a creative writing class, and you submit a story to your teacher.
It's about a young man from the UK. For the 8 years since he finished college he's been working as an engineer, designing parts for oilrigs and water purification systems. Then he decides to move to the US to be with the woman who would become his wife. After he arrives there's a hold-up with his work permit. Weeks stretch to months and he can't get a job. He's got nothing to do and it's driving him crazy. So he tries to think of something he can do to keep busy and maybe even make some money before his permit comes through, and he strikes on the idea of writing stories.
But there's a catch. He's dyslexic. Spelling is a huge issue, and so is written syntax. To top it off, he's never written anything before.
So why does he think he has what it takes to be a writer? Because he loves stories, and when his mind wanders he constantly imagines how some seemingly unremarkable event could kick off a whole series of incredible episodes. He believes imagination, not spelling, is the key to good writing. So with his wife as his chief editor, sounding board, and supporter, he begins to write stories, first for himself, then for contests, then for magazines. Within a year and a half he's won two regional writing awards. In two years he's published his first short story. Fast forward 15 years and he's written twenty books. He's becoming one of the top selling mystery writers in the world. His most recent thriller spends weeks in the Amazon top 10 and quickly receives over 3000 reviews. And that's your story.
Now, what do you think your teacher would say? "Great story! Really creative!" Or, "Strains belief! Too implausible!"
But here's the amazing thing. This story is really true. It's the story of Simon Wood. Simon's most recent thriller, The One That Got Away, is just the latest in a stream of increasingly popular books that have flowed from his amazingly creative mind.
It's fitting that Simon's personal story should seem so unlikely, because like the man who's one of his biggest influences, Alfred Hitchcock, Simon has a taste for the improbable: a sense that at any moment our lives might be jolted off the tracks of the ordinary and start careening into the realms of the unknown. Simon found that his mind was naturally tuned to see these unusual connections, and to build them into stories.
Recently Simon was kind enough to talk with us from his home in Contra Costa County, California. We asked him how, once he decided to write, we set about learning his craft.
"I went about it like an engineer, which of course is what I was. So I got some books I really liked, and I began to reverse engineer them. I looked at their structure—things like when the characters come in, and when the plot twists happen—and then I started writing short stories myself, using what I'd found."
Simon's first breakthrough as a published author sounds like a twist from one of his own stories. On New Years Day, 2000, he received notice from a sci-fi magazine based in Roswell, New Mexico, that they wanted to run one of his pieces. From that first publication onward he's continued to build his career on an arc that in recent years has taken a sharp slope upward.
We've read, and loved, many of his books, and we told him we were surprised to hear that he'd focused so heavily on structure when learning to write, because his books show no signs of being heavily plotted or formulaic. Instead, their driving force is usually their very strong characters, and their plots flow naturally from the choices and actions these characters make. Simon seemed pleased that his hard work creating structure didn't show up in his finished work, but he responded with another analogy from engineering:
"As an engineer, I believe that the best creations are those where the necessary structural features are merged with architectural features in such a seamless way that they appear totally natural. They get their job done, but they don't draw attention to the task they're performing. For example, Paddington Station in London has a beautiful glass ceiling that's supported by arches that run down to columns, and the columns appear as beautiful architectural features. But they also serve a functional role as drainage conduits for water, and they perform this function in such a way that you never see that. You're focused on the esthetic role they play. Good writing is like that, too."
We'll close with a story Simon shared from his school years, because it so perfectly captures both the promise and the challenges that so many of our brilliant young dyslexic storyteller's face in school. At a parent-teacher meeting Simon's teacher showed his parents a largely indecipherable page of Simon's work, but she accompanied it with a word of hope: "Simon's clearly a very bright young boy, but it seems his hand just can't keep up with his head." Like so many of the writers we featured in the Dyslexic Advantage book—Anne Rice, Vince Flynn, Sarah Andrews—it wasn't until Simon was in his late twenties that his writing talents fully matured. But now that his hands have caught up with his head, we can all enjoy the results.
We highly recommend Simon's many excellent books which are available at booksellers like Amazon.com and Audible.com, and also his great blog and website, at SimonWood.net.   – Brock Eide