Dyslexia and Resilience: The word resilience comes from the Latin word resilere, meaning to rebound. The first known use of the word resilience was when a person wanted to refer to a type of wood that would carry sudden and severe loads without break. Well, that's exactly what we want to encourage in our children and ourselves.
Resilient children are more likely to believe that they have the ability to handle their problems and stress. They are more likely to
persevere, stay calm, and help themselves.
Resilience may vary by temperament, but it also can be increased by education.
Here are the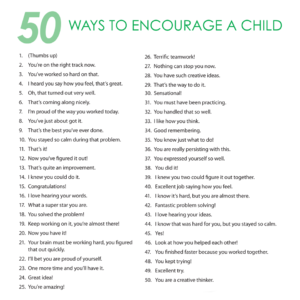 5 Tips for Resilience and Dyslexia:
1. Nurture the Positive
2. Reframe the Challenges
3. Focus on the Big Picture
4. Practice Mindfulness
5. Discover the Advantages
Read more about Dyslexia and Resilience for readers with a  Premium Membership!
To see all 50 Ways to Encourage a Child, click on the photo to enlarge.